The UK's fastest growing and most comprehensive resource for freefrom food –
gluten, wheat, dairy, lactose, egg, nut and soya free...

26th July 2015
Tasty Little Numbers have launched three 100 calorie gluten free biscuit bars in Belgian white, dark and milk chocolate varieties. Available to buy online, a box of 20 x 20g bars costs £12, and they're available from Waitrose stores across the UK.
---
---

20th July 2015
DS-gluten free is rebranding as Schär, and the range will introduce nine new products alongside DS-gluten free's existing 27 products, including Italian frozen meal solutions, a caramel Chocolix bar, and oat-based Breakfast Bakes. The Schär range will be available on Amazon and in all major supermarkets across the UK from September.
---

15th July 2015
Kennet and Avon have brewed a new gluten free stout, Savernake, a full bodied very black beer at 5.3% ABV with aromas of licorice, roasted coffee, chocolate. This barley and oat brewed beer is certified as Gluten Free and is well below the required level of 20 parts per million. It is also unfined and therefore vegan. Stockists online.
---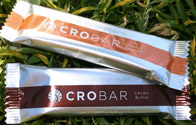 13th July 2015
Crobar is a gluten, dairy, soya and added sugar free, all natural energy bar which contains protein-rich cricket flour. Crickets are very high in protein and iron, contain all essential amino acids, and are also more sustainable to farm than conventional livestock, as they need far less water and land. Apart from cricket flour, Crobar energy bars contain nuts, dates and seeds, and come in two flavours: Cacao & Chia and Peanut Crunch. Available online, a box of 8 bars costs £18.
---

11th July 2015
Chippa is launching a gluten and dairy-free condiment range to replace Tiger Tiger. The range, which contains seven condiments; May-O (gf, df, ef mayonnaise), Tomato Sauce, Brown Sauce, Salad Cream, Sweet Chilli, Worcestershire sauce and BBQ Sauce. Available from Sainsbury's initially, the sauces will cost from £1.29 for the Worcestershire sauce and £1.59 for the rest.
---

10th July 2015
The Groovy Food Company is launching a range of gluten free marinades and salad dressings using their own sweet Agave Nectar, an organically grown natural sweetener from Mexico's Blue Webber agave plant, and combined with fresh ingredients. Marinades include: Balsamic with Garlic and Basil, Masala with Mango, and Chilli with Coriander and Lime all in squeezy bottles. Dressings include Creamy Balsamic with Basil, Classic Mixed Herb with Garlic, or Sweet Mustard with Chilli – all delicious and will spruce up any dish. The whole range is suitable for vegetarians and vegans, and available to buy from Ocado and online costing approximately £2.50 for a 250ml bottle.
---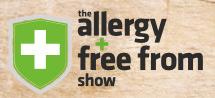 11th July 2015
The Allergy + FreeFrom Show 2015
Cressida's report on over 50 new products she found at last weekend's freefrom food and skincare exhibition at Olympia.
---
• For more recent product updates check in here.