The UK's fastest growing and most comprehensive resource for freefrom food
gluten, wheat, dairy, lactose, egg, nut and soya free...
---
---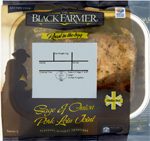 Gluten-free Roast in the Bag Pork!
The Black Farmer has brought out a gluten-free roast in the bag sage & onion pork loin joint. Currently on offer in the Co-operative costing £7 for 2 joints, and going into Budgens 16th November at £4.50 a joint.
12th November
---
---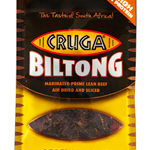 Cruga, Wild West and Texas Joe's no added MSG biltong contains no gluten either. Available from lots of stockists nationwide, each pack has an approximate price of £1.99.
2nd November 2015
---
New on-the-go winter breakfasts
MOMA (Making Oats More Awesome) have launched four gluten free porridge pots: plain, plain (no added sugar), golden syrup and cranberry & raisin. Available online, the pots cost £14.99 for 12.
28th October 2015
---
Is it a cous cous? Is it a rice? NO!
Cauli Rice have launched four flavours of gluten free low carb alternative to rice: original, lemongrass & chilli, Mediterranean and Indian pilau. Available in most supermarkets, Cauli Rice costs approximately £1.99 for 200g
24th October 2015
---
Popped chip snack made from casein
Proper Pops have launched a gluten & lactose free popped chip snack, made from casein, a slow-release protein derived from milk. In three flavours: lime, lemongrass & garlic, lemon & chilli, and paprika, Proper Pops can be bought from Sainsbury's and Marigold Health Foods Ltd for approximately £1.39.
22nd October 2015
---
• For more recent product updates check in here.