The UK's fastest growing and most comprehensive resource for freefrom food –
gluten, wheat, dairy, lactose, egg, nut and soya free...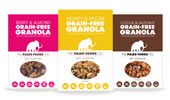 The Paleo Foods Co have launched three wheat & gluten free Paleo Granolas - that's no grains (like wheat or oats) and refined sugar. The new cereal contains toasted nuts, crunchy seeds, berries, coconut chunks and a drizzle of honey instead. Available in three flavour variants - Honey & Pecan, Berry & Almond and Cocoa & Hazel - from Sainsbury's, Ocado, Selfridges, and in Waitrose from August for £5.75. It is also available from Wholefoods and quality independent stores.
18th August 2015
---

9BAR, makers of gluten free mixed seed energy bars, has a new logo, new packaging and a new focus - to give 'good energy, twice': providing super-seed energy to anyone who eats a 9BAR, and also giving good, sustainable energy to families in Africa through its partnership with SolarAid. 9BARS, with reduced sugar and reduced saturated fat, have made a few subtle changes to the recipes, and added a new flavour, Chia Berry bar. 9BAR make the Breakfast range and the Indulge range. Available online and from various shops nationwide.
17th August 2015
---
---

A new guide has been launched to support food manufacturers on the labelling of food products containing gluten. The Food & Drink Federation (FDF) has launched a new best practice guide to help manufacturers adhere to the Food Information to Consumers (FIC) Regulation and to provide consumers with clear and consistent allergens labelling. The FIC Regulation brought changes to the way allergen information is provided and emphasised on pre-packaged foods. 'Gluten Labelling Best Practice: How to label pre-packaged foods which include cereals containing gluten'. The guide has been developed by the FDF with support from Coeliac UK, Anaphylaxis Campaign and the British Retail Consortium.
13th August 2015
---

Droppa & Droppa Specialist Foods, the gluten, wheat and dairy free manufacturer and allergen training company, has closed their manufacturing arm in order to concentrate its resources on its allergen training customers, helping businesses get to grips with best practice procedures, due diligence, compliance and good old fashioned common sense. They will continue to develop recipes suitable for gluten free diets, which can be cooked in any kitchen using 'easy-to-come-by' ingredients, as part of their KISS (Keep It Simple & Safe) Campaign.
11th August 2015
---
Mrs Crimble's is helping to raise money for breast cancer research charity Breast Cancer Now with its gluten and dairy free Choc Macaroons. For every pack sold, 5p will be donated to Breast Cancer Now, meaning that enjoying one of Britain's favourite treats will be virtuous as well as utterly delicious! Available online and from various stockists nationwide.
10th August 2015
---
Ten Acre have introduced two new flavours into their gluten & dairy free popcorn range: Lucia Popperley's Cappuccino Popcorn and Cousin Penelope's Strawberry & Cream Popcorn are also msg free, halal, vegan and kosher. Available online costing 69p for a 28g bag.
6th August 2015
---

Omission make both a gluten free lager and a gluten free pale ale, both 5.8% ABV, and both costing £2.50 for a 35.5cl bottle from Beer Merchants. Omission Lager is a refreshing and crisp beer, brewed in the traditional lager style. Amber in colour, Omission Pale Ale's floral aroma is complemented by caramel malt body, making for a delicious gluten-free craft beer.
5th August 2015


---
• For more recent product updates check in here.