Gluten Free Salzburg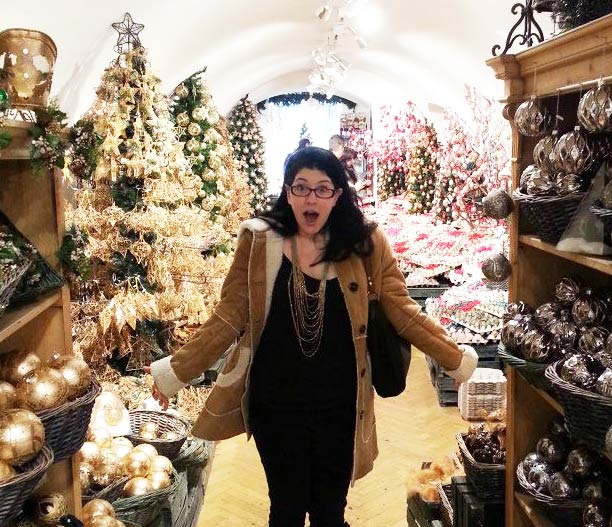 Salzburg was not on Catherine Rose's bucket list of cities to visit but, thanks to her partner's job, she came to know it like the back of her hand – and grew to love it. Here she is in the Easter Egg shop.
---
I never thought I'd get to know a European city as well as I know Salzburg. I had never had it down as a 'must visit' but this gem of a city nestled in the mountains and lakes of Austria was the city in which my partner decided to live for two years of our relationship. As a result, the visits I made to see him every other month, resulted in me knowing Salzburg as well as I know London!
Austria was very much slow on the uptake of 'gluten free' and when I first went out in 2013 the only place I was sure of a gluten free meal was the Michelin Star restaurant (poor me – right?!) Since then, restaurants and supermarkets have responded to a growing demand and there are actually pretty good options!
My three day visit to Salzburg
Even though there is a Hotel Sacher in Salzburg, I would recommend doing a day trip to Vienna over a Sunday to go to the original one. This is mostly because Salzburg is dead on a Sunday! Even supermarkets are only open until 1pm.
Day 1: City Centre
I am guessing that you're visiting Salzburg to either visit the summer festival, you have an interest in Mozart, you love the Sound of Music, or you're visiting in winter and you need gluhwein in your life? Either way, you cannot avoid the 'city centre. focused around Getreidegasse and Mozartplatz, the cobbled streets are picture perfect!
Start off your morning at Afro Café. This place serves really great coffee and breakfasts. They sometimes have gluten free bread but most of the time, the hams, cheeses and fruits hit the spot.
After that, wander around Getreidegasse, Judengasse and Mozartplatz. Along Getreidegasse, you can see Mozart's birthplace and the part I really like is the old fashioned doorbells you can see. The wires run along the front of the building ready to ring at each floor.
(Fun fact: Mozart hated Salzburg. He would have had a good giggle at how much the city now uses him for tourism!)
There's my favourite shop just on Judengasse: it's a Christmas and Easter Egg Shop! Everything is handpainted onto blown eggs. My first time in Salzburg, I spent 50 minutes in there. Josh was not impressed!
Further along Judengasse will bring you to Salzburg Cathedral and the museums which are all brilliant and so informative. With such a rich history, Salzburg's museums really are a must see to help absorb this.
Lunch time has to be at either The Green Garden for fresh vegan, healthy eating or at Zum Eulenspiegel for a traditional fare up some rickety stairs in what looks like someone's home. Both places cater for gluten free diets and are really helpful if you have other dietary requirements.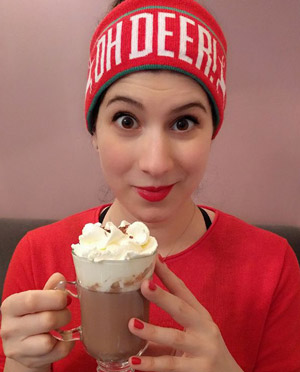 After lunch, walk over the 'Lock Bridge' - every city has one, but this city has my lock (awww) - and on the other side of the river you will enter Mirabellegarten (Garden of the Mirabelle Palace). If you like the Sound of Music, this is where the 'steps' are from the movie and it's also where the Sound of Music Bus tour departs from (if you're into that kind of thing).
On this side of the river is Linzegasse which is a cute shopping street with a Gummi Bear shop on it. All gummis are marked gluten free/vegan/sugar free etc so knock your stocks off!
And then wind down with an epic glass of mine at my favourite little hidden gem: Di Renzi Prosciutteria & Enoteca. This little trattoria does northern Italian food impeccably and they're really clued up to free from options!
Day 2: Up the mountain
If, like me, you feel a little delicate after an evening at Di Renzi, wake up late and walk along to my favourite Konditorei, Konditorei Rainberg, on the other side of the mountain to the main city. This place is my favourite little café in all of Salzburg. For a start, the staff are so lovely and kind and they have a cute little café dog who keeps your feet warm! Their Hot Chocolate is to die for and their breakfast fares are simple, classic and delicious! Try the scrambled egg with sausage.
From here, walk down Augustinergasse and head on up the hill/mountain. It's a gorgeous walk with great views. Once at the top, there's the Modern Art Museum and the Castle. They're both so interesting and you could spend hours at each of them!
After you're done with culture, head down the mountain on the oldest steam cog railway in Austria: Schafberg Mountain Railway St. Wolfgang.
You'll be feeling all Austrian after walking around the Castle, so dinner is at a traditional Beer Hall: Sternbraü. This place has a dedicated gluten free menu and you HAVE to have pudding of Salzburger Nockerl (a puffy, fluffy meringue type dessert with hot berry compote) to finish your meal off!
Day 3: End with a Bang
Start your day off with a brisk hike up Kapuzinerberg mountain. There's a stunning monastery at the top and great views of "the other side" of Salzburg. It is a brisk walk so get your blood pumping in the morning.
From there, a traditional lunch at Steinlechner Jedermann's Wirtshaus who do gluten free Kasnockn if ordered in advance. This dish is basically carb and cheese heaven and is not often found gluten free anywhere, so enjoy it!
I'm quite into watching the Formula 1 so a trip to Salzburg is not complete without looking at the private car, plane and bike collection of Red Bulls's owner Dietrich Mateschitz at Hangar 7. Hop on a bus from the city centre towards the airport and you'll pass two huge glass domes. One of them houses the private private collection and the other houses a public private collection of F1 cars, old war planes, and off road bikes. For a short while it also housed the capsule that took Felix Baungartner to a height of 24 miles before he freefell to Earth! He survived btw.
This is quite a decadent way to end your 3 days in Salzburg but I like walking around Hangar 7 in my evening dress before a dinner at the restaurant IKarus in the Hangar. (The image above is of a dish that you might be lucky enough to be offered at Ikarus...)
Every month there is a different Michelin star chef from somewhere in the world who gets total control of the kitchen and creates a set menu to showcase his wares. You are always guaranteed a different meal each time you visit and the quality is always incredible.
Also, if you're table is not quite ready, you can have a cocktail in the ceiling. I'm not joking….. There's an actual glass bottomed bar at the very top of the building that you get to by a bridge. Not for the faint of heart but what a way to end your trip, eh?
TOP TIPS
Bread
I have got into a habit of carrying around rice cakes or gluten free bread with me. Especially for breakfast, this is really helpful to plonk your cheese and hams on! Every place I've done this at, has not minded at all, especially when armed with my Gluten Free Restaurant Card.
Best places to buy gf bread:
Reformstark Martin on Linzer Gasse
Billa on Grisgasse
DM on Sigmund Haffe Gasse
Language
Always good to note the useful phrases and bringing your Coeliac Restaurant Card with you.
The magic phrase is 'Ich bin ein Zöliakie' ( 'I am a coeliac') and 'Ich kann kein Gluten essen' ('I can't eat gluten'). Then, flash them your restaurant card and most waiters will help.
When all else fails
Great Sushi Restaurant: Nagano
Indian Restaurant: Hanas
Please note that all the above are notes from my own personal travels and are not affiliated to any company.
September 2017
For more articles on travelling with allergies and intolerances see here.