Chocolate Easter Nests
Corn, egg, gluten, lactose, milk, nightshade, nut, peanut, sesame, soya & wheat free
This is an unusual take on the usual cereal nests with noodles producing a softer springier version.
Makes 8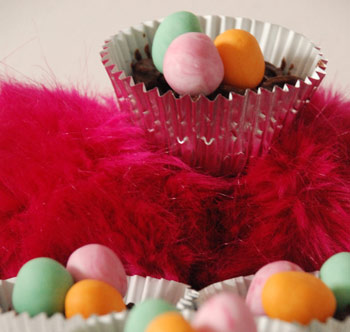 Ingredients
100g dairy free chocolate
1 tsp maple syrup
25g dairy free spread
100g thin gluten free rice noodles / vermicelli
bought freefrom eggs or coloured icing
Method
Line a muffin tin with 8 paper cases.
Melt the chocolate, syrup and butter together either in a microwave or in a bowl over some simmering water.
Break the noodles in half or thirds and cook the according to the pack.
Rinse them thoroughly in plently of cold water and then pat dry.
Mix the noodles into the chocolate and stir well.
Use 2 forks to separate the noodles and place in the cake cases.
Build up the nests in small pieces and shape as you go.
Chill to set and then decorate with either purchased eggs or icing rolled into egg shapes.
We have over 800 delicious freefrom recipes on this site all of which are gluten free, most of which are dairy and lactose free and many of which are free of most other allergens. Please go to the following sections to try them out: