Spiced Lamb Filling
Corn, egg, gluten, lactose, milk, nut, peanut, sesame, soya & wheat free
You could serve this on a baked potato or with rice but as there is not much liquid it would also be lovely served in a gluten free wrap or flatbread with some salad.
Serves 4-6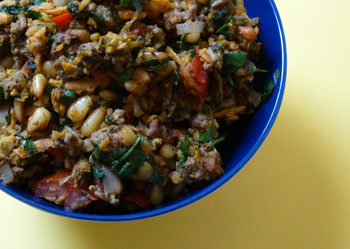 Ingredients
1 tbsp oil
2 onions, chopped
2 cloves garlic, chopped
500g lamb mince
3 tsp ras-el-hanout
1 tsp thyme
1 tsp cumin seeds
3 sweet potatoes, peeled and grated
1 red pepper, chopped
4 tomatoes, chopped
260g spinach
2 handfuls of pine nuts
2 large handfuls of parsley
Method
Heat the oil in a large pan and gently fry the onion and garlic 5 minutes.
Add the lamb mince and cook for 10 minutes until browned.
Drain the fat from the mince and return it to the pan.
Stir in the peppers, ras-el-hanout, sweet potatoes and tomatoes and cook over a medium heat until the meat is cooked through.
Wilt the spinach in a lidded pan with a splash of water.
Squeeze the liquid out of the spinach and chop finely.
Toast the pine nuts in a dry frying pan until starting to colour.
Stir the spinach, pine nuts and parsley through the mince and serve.
We have over 800 delicious freefrom recipes on this site all of which are gluten free, most of which are dairy and lactose free and many of which are free of most other allergens. Please go to the following sections to try them out: