Low-FODMAP Away From Home …
Sticking to a low- or modified-FODMAP diet when you're preparing meals from your own kitchen can be hard enough – but when you're away from home or on the go it can be even trickier. In this adapted extract from his newly released co-authored book, IBS: Dietary Advice to Calm Your Gut (available from Amazon here) Alex Gazzola offers some advice.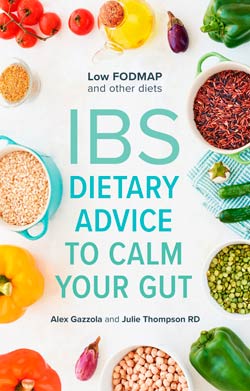 When you're restricting your intake of FODMAPs, the gastronomic world outside can seem nothing but a series of potential stumbling blocks – a line of high fructans, lactose rich and polyol heavy hurdles. If you need some guidance, especially if the low or restricted FODMAP plan is new to you, here are some tips to help negotiate the minefield.
Eating out
While these days they are fairly clued up on food allergies and all matters gluten, chefs and restaurant staff may not yet be aware of the relatively new low-FODMAP diet! You may have to scrutinize available ingredients carefully and question staff closely, while keeping your 'safe' and 'unsafe' food list close to hand.
Remember that outlets are legally obliged to disclose the presence of any of the 14 key allergens in prepared foods – including high FODMAP ingredients such as wheat and milk – but not other ingredients, although of course most, in practice, will if you ask.
Grilled plain fish or meat are good options, with plain rice and freshly cooked potato, which are ideal starchy components. Egg dishes, such as omelettes, can be fine if onion- and garlic-free. In both cases, ask about any sauces, stocks and dressings used.
Sushi is a probable good option, and accompanying wasabi and ginger are suitable flavourings, but check for vegetarian rolls made with high-FODMAP ingredients such as garlic and onion.
Gluten-free meals, though, are likeliest to be suitable, as they avoid wheat, a key source of the FODMAP fructans. Many outlets now have gluten-free menus or use 'GF' to highlight menu options. Coeliac UK's GF symbol tells you that the food service provider adheres to the charity's gluten-free standard, which covers all aspects of food preparation as well as guaranteeing that training has taken place.
Good vegan or vegetarian options might include risotto and low-FODMAP vegetables, or rice-stuffed peppers, unless containing onion and/or garlic.
Drinking and alcohol
Government guidelines issued in 2016 advise both men and women to drink no more than 14 units evenly spread through a week – equivalent to six pints of beer, seven glasses of wine or 14 glasses of 40 per cent spirits (a glass is 25 ml) – and at least two alcohol-free days a week are recommended.
In people with IBS lower intakes than these are advisable, especially of gassy or carbonated drinks or mixers.
You could have a glass of wine, for example, with your main meal, or ask for a spritzer to make a longer drink. Order a spritzer with your starter and allow it to go a little flat before drinking it if you suffer from bloating. Using an implement such as a straw or cocktail stirrer to mix your drink will help to disperse the gas it contains, but don't drink through the straw.
Most alcohol is low FODMAP except rum, sweet wine, sherry and port, which could contain fructose.
Mixers with artificial sweeteners are likely to be better than those sweetened with glucose–fructose syrups.
Watch the amount of fruit cocktails you have, if you have fructose intolerance – one small glass (100 ml) of pure fruit juice containing low-FODMAP fruits is usually the maximum portion advised.
Some people struggle with lager, possibly because of the gas it contains. Gluten-free beer is available if you wish to try it.
Bar snacks
Some low-FODMAP options include:
olives (check dressing has no garlic and onion);
peanuts;
plain or salt and vinegar crisps;
Peppadew (choose mild if chilli gives you symptoms);
gluten-free pretzels and breadsticks.
At work
If you have a staff canteen, the same advice applies as when eating out – as do the same regulations – but the canteen may not be as well equipped to cater, especially in smaller companies. Some suggestions:
jacket potato and tuna mayonnaise and green salad
omelette (no onion) and green salad
grilled chicken, meat, fish (no sauce)
steak and jacket potato.
Bringing your own home-made lunch can be more cost-effective:
gluten-free sandwiches with ham and white cabbage and carrot coleslaw
rice or gluten-free pasta salad
potato salad
gluten-free wraps or pittas with salad and chicken, hard cheese or fish.
'On the go'
It can be tough when out and about to find suitable foods, and it is better to be prepared for this eventuality so that you are not tempted to eat unsuitable foods. Here are some ideas:
fruit – banana, orange, small handful of grapes
gluten-free breadsticks or crackers
small handful of suitable nuts and seeds
an occasional treat – crisps, flapjack (check ingredients), dark chocolate-coated rice cakes, rice bars, cornflake cakes.
If you struggle to find safe milk available when ordering coffee or tea in outlets, Lactofree produce handy portable 20ml long-life portions of lactose-free milk, available from most larger supermarkets and Ocado in packets of 5.
IBS: Dietary Advice to Calm Your Gut (£9.99, Sheldon Press), by Alex Gazzola and Julie Thompson RD, is available through good bookshops or from Amazon here.
Click here for more articles on FODMAPS