Freefrom pasta and pizza recipes
---
All our recipes are wheat/gluten free and cow's milk free.
Many are also free of corn/maize, eggs, lactose, nightshades, peanuts, soya, sesame and treenuts – please check on the individual recipe.
---
FreeFrom all'Italiana – Primi
Italian food guru, Anna del Conte, goes freefrom!
With our own freefrom expert, Michelle Berriedale Johnson, she has created 30 recipes for classic Italian pasta and rice dishes – but all gluten free! Even better 90% are lactose free and most can be made milk/dairy free.
Read all about them here – or
buy direct from Amazon here in the UK and here in the US.
---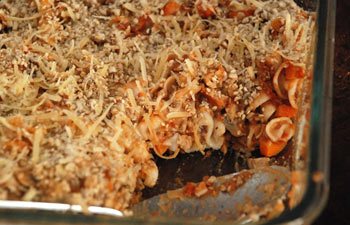 'Cheesy' Pasta Bake
KEY:
CF – Corn free; DF – Dairy free; EF – Egg free; GF – Gluten free; LF – Lactose free; NiF – Nighshade free; NuF – Nut free; SF – Soya free; WF – Wheat free

cbCF etc – can be corn free – eg substitutes given
NB DF/Dairy free means cow's milk free, not animal milk free


• New this month •
'Cheesy' Pasta Bake
Corn, egg, gluten, milk, nut, peanut, soya & wheat free

---
Pasta

Pancetta and Basil Pasta
Corn, gluten, lactose, milk, nut, peanut, sesame & wheat free; can be soya free

Creamy Spinach Pasta
Corn, gluten, lactose, milk, nut, peanut, sesame & wheat free; can be soya free

Pasta with Smoked Salmon, Lemon and Dill
Corn, gluten, lactose, milk, nightshade, nut, peanut, sesame & wheat free; can be soya free

Creamy Green Pasta
Corn, egg, gluten, lactose, milk, nut, peanut, sesame, soya & wheat free

Edamame Spaghetti with Creamy Coconut Sauce and Sesame Salmon
CF, EF, GF, LF, MF, NF, PF, WF

Black bean spaghetti with mussel sauce
from FreeFrom all'Italiana - Primi by Anna del Conte
WF, GF, DF, CF, SF, EF, NF

Open aubergine lasagne
WF; GF; DF; N; SF; EF

Gnocchi
WF, GF, DF, NF, SF

Sweet potato gnocchi
WF, GF, DF, NF

Pasta and greens - scarcely a recipe!
CF; DF; EF; GF; LF: NiF; NuF; SF;WF

FreeFrom fusilli with leeks and chard
DF; EF; GF; NiF; NuF; SF; WF;cbDF; cbLF

FreeFrom fresh pasta
CF; DF; GF; LF: NiF; NuF; SF;WF

FreeFrom fusilli with anchovies and spinach
DF; GF; LF; NiF; NuF; SF; WF; cbCF; cbEF

FreeFrom Smoked Fish and Pasta Salad with Horseradish
CF; NiF; NuF; cbSF; cbWF; cbEF; cbGF; cbDF
(from Michelle's new book Cooking gluten, wheat and dairy free)

FreeFrom seafood pasta bake
DF; EF; GF; LF; NuF; SF; WF

Fusilli with anchovies and capers
DF; EF; GF; LF; NiF; NuF; WF; cbCF

FreeFrom Mange Touts and Fusilli with Wasabe and WatercressSauce
CF; EF; GF; NiF; NuF; WF; cbDF; cbSF

FreeFrom Baked Trout and Oregano with Green Bean Pasta
CF; DF; EF;GF; NuF; WF; SF; cbNiF

FreeFrom Classic spaghetti carbonara
GF; LF; NiF; NuF WF; cbCF; cbDF; cbSF

FreeFrom Pasta and Curly Kale Salad with Pumpkin Seeds
CF; DF; EF; NiF; cbWF; cbGF

FreeFrom Hot Pasta Salad
CF; DF; EF; GF; NuF; SF; WF

FreeFrom Beetroot, Pasta and Watercress Salad
CF; DF; EF; GF; NiF; NuF; SF; WF

Pizza

Coconut Flour Pizza Base
Corn, gluten, lactose, milk, nightshade, nut, peanut, sesame, soya & wheat free

FreeFrom gram flour and sweet potato pizza base
CF; DF; EF; GF; LF; NiF; NuF; SF; WF

FreeFrom sardine and anchovy pizza topping
CF; DF; EF; GF; LF; NiF; NuF; WF

FreeFrom pizza Margherita
CF; DF; EF; GF; LF; NuF; WF

FreeFrom aubergine and chili pizza topping with Italian sausage
CF; DF; EF; GF; LF; NuF; SF; WF

FreeFrom Ham and Pineapple Pizza Topping
CF; DF; EF; GF; NiF; NuF;WF; cbSF

Dick Mieli's FreeFrom Dairy and Nightshade-Free Pizza Toppings – 'sort of' puttanesca, onions and sardines and mushrooms and artichoke heart


Return to:

Return to FreeFrom Recipes Home