Coeliac disease and digestive disorders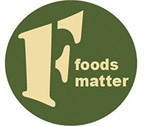 This section of the Foodsmatter site looks at coeliac (celiac) disease and other food-related digestive disorders.
For gluten-free and other freefrom foods, please check in to our food pages.
If you click on the links below you will go to the section of the site which addresses that specific area with articles, research reports, Q & As and personal stories. If you wish to comment on any of the articles please email us.
---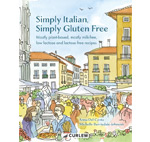 Ninety classic Italian recipes from Italian food guru, Anna del Conte – but, thanks to discreet amendments by freefrom expert, Michelle Berriedale-Johnson – all are gluten free and most either are, or can be, milk free. Soups, pasta dishes, rice and pulse dishes vegetable dishes, salads and desserts including Smoked salmon and pesto sauce for seaweed spaghetti….  Risotto with asparagus…. Plums in wine syrup with rosemary…. Available from Amazon.
---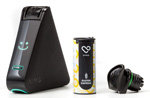 Alex Gazzola takes a look – and, despite the enthusiasm of some its new users, is not entirely convinced.
---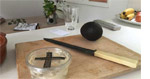 'What's the worst thing about living with a coeliac?', I asked my other half whilst we were lying in bed one morning.
'The bloody kitchen,' he cried, sitting up. 'It's a nightmare....' Read on....
---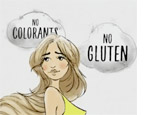 Excellent post on Alex Gazzola's Allergy Insight blog on whether (or not) coeliacs should be worried by the possibility of gluten appearing in their face or hair care products and how, if it does, it should be labelled.
---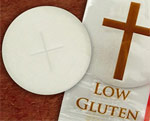 The eucharistic host is a key sacrament for most Christian religions. But, as Alex reports, what it is made of is not as simple as it seems – and is causing deep distress to many coeliacs and food sensitives.
---
• Articles and research on the causes of coeliac disease
• Articles and research reports on the management of coeliac disease
• Articles and research on gluten intolerance
• Articles and research on wheat allergy

• Gluten-free foods and hundreds of gluten-free recipes
• For winners of the 2015 FreeFrom (gluten-free) Food Awards click here!
• Coeliac/gluten-free cook books, recipe blogs & more general coeliac related blogs
• Articles and research on other digestive conditions
---
Information on this site is not a substitute for medical advice and no liability can be assumed for its use.
If you experience any problems with this website, please contact the webmaster.