Diary of a food intolerant
The tale of the ongoing trials of another food intolerant... by Micki Rose (see also Fancy a crocodile steak?)
I'll admit, I saw the garlic coming. But what can you do on a cold night when you're passing a tiny Turkish restaurant with flickering candles reflected in huge mirrors and tables arranged in too-welcoming fashion around a wood-burning stove? Go in, of course. Even though you know already that to avoid garlic in here would be as easy as avoiding ice in Iceland. Sort of goes with the territory.

'I'll be OK', I thought. 'I'll take the consequences. I'm sick of not enjoying myself.' It's amazing what guff you can come out with when you're hungry and desperately wanting a Turkish meal you've never had before…

We started with hummus, baba ganoush and a variety of dipping things. Well, if you're going to have garlic, you might as well go for it in my book.

I avoided the pitta bread and asked for mushrooms. They thought it was a bit odd, I'm sure, since there was any amount of carrot and celery sticks included, but my crunching days were over for the time being since I accidentally had a sausage in a caff last weekend when we were moving and had nothing in the house. Ever since, my gums had been swollen and sore so a liquid diet (including red wine, of course) had ensued.

I tucked in with relish (well, into the hummus anyway) and laughed off the consequences: I knew my ears would go red, sore and swollen and my earring would be ruddish for a few days - my normal garlic reaction.

But I didn't see the 'special rice' coming at all. Every dish included 'special rice' of some description.'Wahay,' I thought, and probably said out loud to the consternation of my dining companion. 'I'm great with rice, let's have some of that!' After the second mouthful, washed down with Turkish red wine (which was doing wonders for numbing my poorly mouth), I realised this 'special' rice was special indeed: it was tiny pasta!

Let me tell you, it's not easy to rant quietly in a tiny Turkish restaurant or to suggest forcefully to owners who don't speak your language they should change their menu forthwith.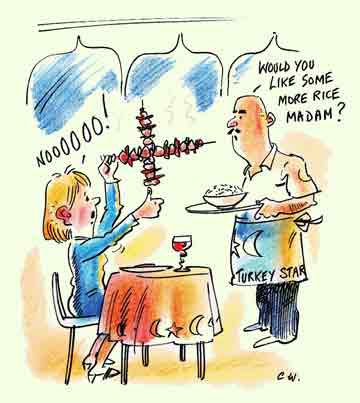 Now a sausage with a bit of rusk is one thing, but pasta is quite another. Too much wheat and I lose the use of my right arm as it goes painful and numb (not great for a massage therapist).

So, this week, Boyfriend Who Tries Not To Notice and Concerned Sister Who Can't Help But Laugh have respectively ignored and been amused by this woman who can't speak clearly for a swollen mouth, is unable to eat solids, has bright red huge ears and a right arm swinging uselessly by her side that has had to be picked up by the hand of the other arm and placed on the desk as she types this one-handedly. Suffice to say, I've gone off Turkish!
First published in 2009
More articles on food intolerance