Low Allergy Gardening
There is increasing evidence that asthma and hay fever may be linked to food sensitivity but while the investigations are done suffers still need to avoid inhaled allergens. Alistair Rivers explains how to reduce risk of triggering an attack in your garden.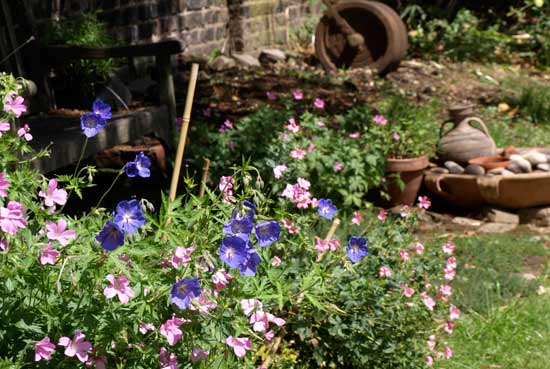 Asthma is the most common chronic disease in the world. In southeast England one in every in adults is affected; nationally, a child suffering an acute asthma attack is admitted to hospital every nine minutes. For the three million asthma suffers in the UK merely stepping into their own garden in summer can trigger a severe asthma attack.

Worse still 'hayfever' is not confined to spring or summer. Symptoms can occur at any time of the year triggered not simply by pollen but by anything from scents to saps, fungi spores to dust. However with a little care it is possible to create a 'safe' and colourful garden, which will minimise the risk of triggering an attack. In creating your garden you need to be aware of the gardens around. Clearly you cannot influence what is happening elsewhere but to use the analogy of a nuclear bomb, it is the difference between being at ground zero and some distance away where the effects have begun to disperse.
Use living filters to remove the dust: a deciduous hedge or climbing plants on a trellis. Dust is always the biggest problem so choose plants with sticky leaves which trap pollen and dust and can then be disposed of safely when their work is done.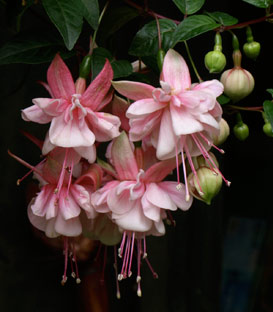 In your own garden you need to eliminate those plants which contain the most potent triggers. This means selecting plants with sterile flowers or ones which produce heavy pollen not easily blown by the wind. You must reject all wind pollinated plants such as British native trees and plants which produce large quantities of light pollen, like daisy flowers.
Also remember to avoid plants with spines and milky sap which may cause skin reactions. Luckily fruit trees and bushes that do not have spines can be used, so strawberries are' in' but rhubarb is 'out' because of its poisonous leaves. Care must be taken when picking herbs as in hot weather the essential oils can cause reactions

In most gardens space is at a premium and so many plants need to be dual purpose; all plants need to cover more than two criteria such as interesting foliage and flower. That will give design more flexibility and help keep plant numbers manageable.

To minimise the manual tasks associated with gardening and, to suppress weeds which may also spark off an allergic reaction use plenty of ground cover plants but avoid mulches of organic matter as they will add to the fungal spores in the air in the autumn.

A major source of allergic reactions is turf sap. Most people assume that grass pollen is the trigger for hay fever, but garden lawns rarely flower. It is this sap thrown up by the mower that causes eyes to water and nose to run. A cylinder mower will minimise the sap in the air.
Alternatively replace the grass with a hard easy-to-maintain surface.
To me the Low Allergen Garden is not an end in itself but an example to asthma sufferers of what can be achieved with a little cunning and some readily available plants.
Low allergen planting list
| | |
| --- | --- |
| TREES | |
| Cataplana bignoniodes aurea | Large leaves with good yellow reflective colour |
| Malus hupenhensis | Heavy pollen, autumn fruit |
| SHRUBS | |
| Aucuba japonica | Thick leaves, smooth and long lived, evergreen |
| Cornus alba Spaethii | Deciduous, good winter colour, sterile flowers |
| Cotinus coggyria | Royal Purple, deciduous, good autumn colour, sterile flowers |
| Escallonia cultivars | Sticky leaves, little pollen |
| Fuschia cultivars | Sticky pollen, deciduous, cut back to reduce dust |
| Hydrangea cultivars | Hortensis cvs, deciduous, sterile flowers |
| Viburnum opulus | Deciuous, sterile flowers |
| Viburnum Tinus | Flowers in winter, little pollen, evergreen sticky leaves |
| Weigela florida | Deciduous, little pollen |
| Phormium tenax | Good foliage, doesn't trap dust, some sterile flowers |
| Phormium Cream Delight | Sterile flowers in the UK |
| Rose free as air | Charity rose for NAC |
| CLIMBING PLANTS | |
| Ampelopsis vietchii | Deciduous, sterile flowers |
| Clematis cvs | Some sterile flowers, deciduous, good dust filters |
| Hydrangea petiolaris | Deciduous, sterile flowers |
| Passiflora cvs | Some sterile flowers, deciduous, fertile flowers set little pollen |
| GROUND COVER PLANTS | |
| Ajuga reptans | Good cover, little pollen |
| Bergenia cvs | Evergreen, sterile flowers or little pollen |
| Geranium cvs | Deciduous, little or no pollen |
| Hosta cvs | Heavy pollen, deciduous, no scent |
| Lamium cvs | Godo cover of soil, little pollen |
| Lysmachia nummualria | Good cover of soil, no flowers |
| Vinca minor | Heavy pollen, sterile evergreen leaves |
| HERBACEOUS PLANTS | |
| Campanula cvs | Deciduous, little or no pollen, no scent |
| Geum cvs | Little or no pollen, no scent |
| Paeonia cvs | Sterile flowers, no scent |
| Polemonium cvs | Sterile or little pollen from flowers |
| Veronica gentianoides | Little pollen, no scent |
First published in the FoodsMatter magazine 1999; revised for the FoodsMatter site 2014
For more articles on allergen-free gardening