Top tips for a happy & allergy safe Easter!
Nathalie was determined that Callum and his sister Chloe's Easter was not going to be ruined by Callum's allergies. And this is how she did it.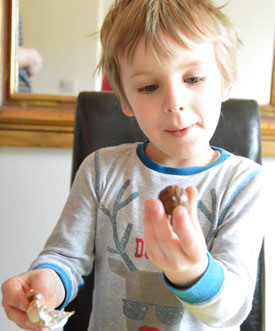 Oh my goodness, it's almost Easter, this year is flying by isn't it!
Easter is iconic for being one of the key times of the year for giving chocolate and sweet treats to loved ones, and especially little ones. The supermarkets have been full of sweet treats for weeks, and the smell of freshly baked hot cross buns have filled the air for almost as long. Receiving a chocolate egg on Easter morning is a lovely and welcome gesture for many, but for others living with allergies, it can be far from it!
Until very recently, it has proven to be quite a challenge to find safe sweet treat alternatives, especially chocolate. More often than not, when you were able to find alternatives, they would often prove to be quite costly. And, particularly if you have children, it's really important to try and make sure that those with allergies are included in the celebrations as much as possible. It's one of those 'key' times when they will really notice they are 'different' to their peers.
It's easy enough to make your own Easter eggs and treats, but one great way of overcoming this, is to steer clear of chocolate and sweets and look to other alternatives!
We've been doing some research and have found some wonderful options for you that are safe for little ones, they are fun to do, and still bring lots of Easter cheer! They'll last longer than chocolate and sweets will too!
Our Top 10 choices
Decorate your own eggs – use either hard boiled eggs or plastic eggs and paint/decorate with safe paints
Easter finger puppet sets are all the rage and a great way of encouraging creative minds
Fabric bags – there are many Easter themed designs that can be bought online and then coloured in
Sticker books are always loved by children, and Easter themed ones often contain stickers, little quizzes, pictures to colour in and more
Easter themed reading books – the much loved children's classic, Spot, has a special Easter edition (it's also one of Callum's favourites!) and can be found in most bookshops
Easter dressing up is always lots of fun, and bunny ears, and chick head bands can be found in abundance in discount supermarkets
Easter DVDs can also be found, and are a great excuse for extra snuggles with little ones
Easter themed t-shirts, and even baby grows are in most supermarkets and are guaranteed to bring a smile to all that see them
Easter bonnets are always fun to make, and many a fun afternoon can be had sticking feathers, jewels and more to hats!
Create an Easter egg hunt!
Our last top choice is what I did for Callum and his big sister Chloe last year. He'd had a particularly rough few weeks after numerous reactions, so I wanted to make the Easter day a really fun one.
I've created an Easter egg hunt each year for the children since they were able to understand what it was. Last year, I made them work a bit harder for the treats by adding clues, and Jon and I were in absolute stitches watching them complete each task!
I sourced some cute Easter crackers and an Easter table cloth so that there was a cheerful and fun breakfast spread waiting for them, and set it all up the night before.
On Easter morning, I called everyone down for breakfast, where Callum and Chloe discovered some Callum safe hot cross buns, along with some extra treats (little plastic eggs filled with allergy safe Easter marshmallows) and a letter from the Easter bunny detailing the Easter egg hunt and the start of the clues.
There followed a hilarious half hour of Callum and Chloe trying to figure out the clues, before then completing the tasks, all whilst stuffing their little faces with marshmallows, and giggling like crazy in their quest to find the ultimate prize of a large chocolate egg. It was such a fun way to teach them about team work, helping each other, and how to have some good old fashioned fun!
Here's a copy of the letter and the clues for if you'd like to try it out too:

Letter from the Easter Bunny
Dear …………………………….
Hello, it's me, the Easter Bunny! Happy Easter!
I've left some treats for you to enjoy.
There's also a special Easter hunt for you – and there's a few things to remember whilst you complete it:
(Name of eldest child) please could you make sure you read out loud each of the clues so that (name of younger child/children) can join in as he/she can't read yet
Make sure you work together as a team – don't try to beat the other, I'll be watching!
Each time you find a clue I've left a treat for each of you to enjoy – make sure you share!
Share with your mummy and daddy if you think they deserve it 😊
I wish you a fun and great day!
Lots of love,
The Easter Bunny xx
Clues for the Easter egg hunt
You will need 6 plastic eggs.
Put a clue into each plastic egg – and leave a safe sweet treat per child (such as marshmallow) in each egg too.
Egg no1 is left on the table where the hunt will start, along with the letter from the Easter Bunny, and then the next egg is left where the answer from the clue takes you (ie egg no2 will be hidden by the back fence, egg no3 will be by the back door, egg no4 will be in the fridge door etc)
Egg no1 - Can you find your wellies, here's what you need to do! Touch the fence from the front to back, but don't lose your shoe!
Egg no2 - Do 10 push ups, can you do more? The next clue can be found near to the back door!
Egg no3 - Jump in place for a minute, then a smidge more! If you aren't too tired, look in the fridge door!
Egg no4 - Sit down and stretch, you have been busy, then get up and run to the nearest tree – look up but don't get dizzy!
Egg no5 - Doing 5 jumping jacks will make you stars! Then check in a collection of cars!
Egg no6 - Do a little dance and jig, you're almost done. Check out the dining table and all around, there'll be something fun!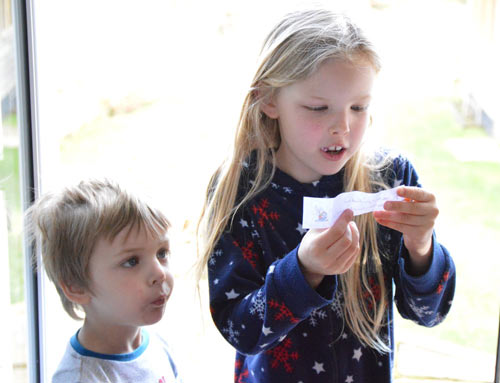 So you see, with a bit of careful planning, a fun, exciting and totally allergy friendly Easter can be created.
Whatever you choose to do for Easter, we wish you lots of fun and a wonderful and reaction free day!
April 2017
More articles on the management of allergy in children and at school