Free From Food Awards 2018 and why they're so important!
Nathalie Newman has been a judge at both the FreeFrom Food Awards and theFreefrom Eating Out awards for the last few years – and this year the FreeFrom Food awards have produced a crop of really amazing allergen free foods!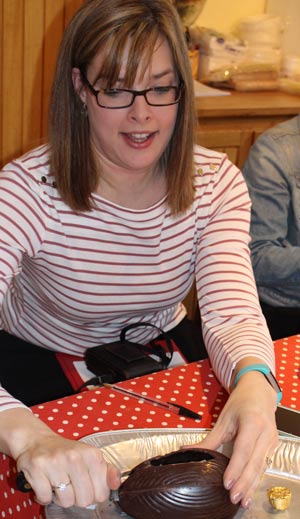 Imagine eating food, and lots of it for your job, sounds great doesn't it! I've had the honour of being a judge in the Free From Food Awards for three years, and this year in particular I was really looking forward to it.

The Free From Food Awards are an exciting time in the calendar as a judge, not just for what they represent in the free from market but also for new safe foods that I can discover. Particularly as I benchmark them against whether they're Callum (my six year old son who lives with 28 serious allergies) safe.

Food these days is big business, and never has a market seen such an incredible expansion than that of the free from arena. Indeed, The Grocer last year reported a rise of more than 40% in sales of free from foods, with Brits spending an extra £230m on free from food in the past year alone. The growth has been so spectacular, the market value has now grown to £806.1million.

I had to read that figure twice, just to be sure I'd got it right! And it looks as though it will go on growing. For those of us needing to buy free from foods this is great news. Long gone are the days where the majority of the free from food available was simply gluten-free. Don't get me wrong, they were much needed, but it's wonderful to see that other allergies are also now included and catered for.

For anyone who does their weekly food shop in one of the big four supermarkets, it's hard not to see that Tesco and Asda have doubled their free from range, and now offer hundreds of products to cater for those who seek gluten-free and dairy-free food. Morrisons and Sainsbury's are catching up with them too, with dedicated dairy-free cheese in particular being championed by Sainsbury's.
Add to this the new artisan companies creating and selling stunning produce each year, and it's fair to say it's looking quite rosy!

FreeFrom Food Awards
And each year of judging the Free From Food Awards sees ever more products being entered as producers clamour to be seen in the marketplace. Shortlisted products, and category winners get the prestigious yellow badge of honour to place on their labels and it is these that stand out on the shelves and shout their worth!
As a judge I find it a fascinating process, and I look forward to each January with much anticipation – product ranges that may have expanded or maybe new recipes successfully brought to market. But it's also more than that!
As a parent of a child with multiple severe allergies, I get so excited for Callum.
Living with multiple allergies
Life is tough with allergies, everyone will tell you that. We're going through additional battles at the moment with Callum's health that are testing us to the core but living every day with allergies can prove more thanchallenging.
With multiple allergies involved, more often than not you need to cook absolutely everything from scratch to ensure it is safe and has no cross-contamination issues.
(Here I am with Emma of FreeFrom Farmhouse testing out some of the amazing new milk alternatives.)
All very well if you live at home...
Now, that's all very well if you work from home like me, or you work part time. But what of the parents who work full time and have very busy schedules. Cooking becomes another chore, another burden to complete on a daily basis and there's no enjoyment. It becomes a necessity. And that's not what food should be about, it should be enjoyed and not seen as hard work.
I'm all for cooking from scratch, and it really is the healthiest option as you can ensure that minimal sugar and salt is added and use fresh produce for optimum nutrients to remain. But then, I'm a true foodie and love creating recipes and dishes for everyone to enjoy.
But sometimes we all need convenience
For many, life gets in the way, and I too, like to sometimes grab something ready-made to make life a bit easier.
So, for me, these awards don't just showcase the producers and help them, they also help the families that need that little bit extra support. Ready meals that can be grabbed off the shelf, without guilt, in the knowledge they are safe!
Going out for the day, and knowing you have safe food to take that won't see you in the kitchen for hours, preparing it all beforehand. Sometimes, knowing you have back up is enough to make things seem just that little bit easier.
Hugely increased choice
Where before there was only a handful of products on offer, now you can get the likes of breads, sauces, spreads, sweet treats and more.
Just three years ago when I first started judging, there was only a few products that would ahve been safe for Callum. Last year we got to 18. I am thrilled to say that this year, I found a record 62 (yes that's right, 62!) Callum safe products - and that was just on the four (out of 10 total) days that I was judging!
These range from breads, sauces, cereals, vegan egg replacer, cake, biscuits, crisps, pizza bases, alternatives to meat, chocolates, milks, yoghurts and more! How exciting is that! Sixty two products, predominantly mainstream, and so easy to get hold of, that are safe for a multi allergic child, who struggles to find safe food on occasion. It's truly game changing!
The benefits of winning an award
And what's more, because they've been entered into these awards, they will have received the PR that comes with the awards that will help to boost their profiles even more.
I'd love to tell you who were outright winners, who got silver awards and who were shortlisted as great products to watch, but I would get into a lot of trouble. All will be revealed at a glittering awards night to be held in London in April, where I promise to share all the details of the awards as they are announced.
Until then, keep your eyes peeled for new products on the market when you go shopping, and give them a try if safe to do so. You won't be disappointed, we certainly weren't!
I know most of you will anyway, but also keep buying the free from products you already love so that the producers continue to make these wonderful new products otherwise they may leave our shelves, and that would be such a shame!
Never let it be said that we do not have fun at the judgings! Here I am tasting gluten and milk freefrom pizzas with Rachel Burkinshaw of 7YearsToDiagnosis.
February 2018
For more articles on the management and treatment of food allergy and intolerance