Food Allergy in India and Asia
Alex Gazzola investigates for his new book, Living with Food Allergies.
Although we often think of allergy as a Western disease, in reality it's fast becoming a global problem. In many Western nations, allergy rates stand at around 40% of the population – or sometimes higher. It may surprise you, but India is not far behind, with an estimated 25% of the population now having at least one allergic condition. Indeed most developing nations in Asia and Africa, increasingly adopting a Western lifestyle, are noticing burgeoning rates of allergic disease across agegroups, especially the young.
Equally, we view food allergy as being a Western problem, and as being caused largely by peanuts, nuts, fish, shellfish, eggs and dairy. While this is largely true of the UK and the US, at least, globally the picture is more varied.
In Europe, for instance, melon, apple and peach allergies are common in Spain, Italy and Greece, while cod allergy is particularly prevalent in Norway and Iceland, and Switzerland hosts a lot of celery and celeriac allergy sufferers.
Go further afield and you encounter allergies most of us in Britain would consider to be impossible and exotic – royal jelly in Hong Kong, pineapple in Ghana, bird's nest in Singapore, buckwheat in Japan, jackfruit in Bangladesh.
India, with a diverse and unique food culture, has acquired its own portfolio of allergens too. Granted, nuts and wheat and dairy and others can be a problem to south Asians, but research led by Professor Mahesh PA, Director at Allergy Asthma Associates in Mysore, India, has uncovered many others – with brinjal (aubergine), cucumber, lady's finger (okra) and papaya among the most common foods causing clinical symptoms in population samples from Mysore City and from Bangalore.
With a population of well over a billion, food allergy could become an enormous problem in India. Some estimates suggest up to 3% of Indians may already have food allergies, the majority under 40 years of age. Food allergies cause roughly 30,000 emergency treatments and 100 to 200 deaths per year in the nation. Up to 3 million Indians may have peanut allergy alone.
However, most of the reactions in India tend not to be life-threatening… yet. The most common symptoms, according to Professor Mahesh's work, appear to be headache, itching, joint pain and vomiting. The worry is this situation will worsen, with anaphylaxis increasing. With a lack of national allergy programmes and fragmented medical care of variable quality, especially in rural areas, India would find it difficult to cope. As it is, adrenaline auto-injector pens are rarely available, only privately when ordered specially, and to those who can afford them. Most people at risk of anaphylaxis, then, are compelled to carry with them pre-prepared and cheap syringes of adrenaline, drawn from ampoules. Adrenaline degrades more quickly in Indian heat, and the advice is to change your syringe weekly to ensure the preparation you carry is sterile.
This is not the only problem developing nations face. Much of the information we have about allergy is drawn from Western studies and research, but this is not always suitable to Indian, Asian or African healthcare. And food labelling, as you can imagine, is fairly cavalier, with any legal framework for allergen declaration probably some years off in India. Neither are there nationally established allergy charities for people to turn to.
Partly to fill the vacuum of information, I was asked to write a book by Indian publisher B Jain. It has just been released, and it is called Living with Food Allergies. You can read a little more about it on my website, Allergy Insight.
The aim of the book is to help inform, support and empower sufferers and their families to cope with everything from the day-to-day practicalities of dealing with food allergy to its longer-term implications. The psychological impact of food allergy is given little consideration, so I've devoted a chapter in a book to it to meet this need. Because food intolerance and coeliac disease are not uncommon in India and Asia either, there is a special appendix covering them.
As well as helping individuals and parents, I hope the book helps raise awareness in India and beyond. There's an impending pandemic of food allergy – and there's not a lot of time and opportunity to get to grips with it before it gets out of hand.
Living with Food Allergies, by Alex Gazzola, is published by B Jain (Rs 99.00 / $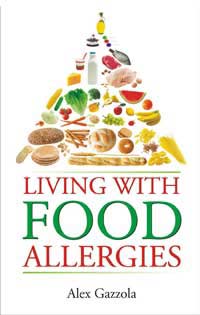 6.95 / £3.95). It is available at Amazon India, Amazon UK or Amazon US.
• If this article was of interest you will find many other articles on unlikely allergies and allergy connections here – and links to many relevant research studies here.

• For more on the more 'mainstream' allergies check in to our 'allergy and intolerance home page' – and for ideas on alternative foods go here.