Catherine Rose's five days gluten-free in New York
Five days? New York City deserves a whole book unto itself! It's a city like London, that is constantly changing, innovating, and is so clued up with free-from that you could go into any restaurant and I'm certain you'd find something to eat. As you can see, I found lots!
---
Usually my travels cover "Three Days in…" but New York City deservdes a whole book to itself! I could write this article and then come back to it next week and have a whole new list of restaurants and eateries and things to do. It's a city like London, that is constantly changing, innovating, and is so clued up with free-from that you could go into any restaurant and I'm certain you'd find something to eat there.
American supermarkets also offer gluten free food in abundance. Not only are there over 10 Wholefoods stores in Manhattan, but general convenience stores will have loads of snacks all labelled gluten free (just don't ask about calories!)
Top tip: bring stretchy pants. I can promise you that this 5-day travel recommendation centres around some stunning eateries which will not be "quick bites"!    
Day 1 - Central Park
You must start off your trip with a visit to NoGlu which is a 100% gluten free bakery on the East side of Central Park. Their brioche loaves and croissants are the closest to the real thing that I've ever found. From this side of Central Park you are right near the Metropolitan Museum Of Art (Hello Degas!) and the stunning Guggenheim. Both are worth a wander around even if you are not into art.
Once you've had your fill of culture, you'll probably be hungry (I always am) so head to 154 East 79th  Street for lunch at Candle 79. Candle 79 is a plant based, health focused restaurant with stunning, innovative dishes which are beautifully presented.
You'll need to walk this lunch off now so take a long stroll through Central Park from the East to West side (try and aim for the 81st Street West exit which will bring you out perfectly by the American Museum of Natural History which is the largest natural history museum in the world!
To finish your day, go for a romantic walk back through Central Park to the Loeb Boathouse. Whilst this place is not gluten free, it is a gorgeous setting right by the lake in Central Park (sometimes you can see turtles in the water) and they can cater for allergies really well. And they have mega puddings.
Day 2 - Highline & meatpacking
A great way to start the day is with brunch at one of the branches of Fig & Olive. It's one of my favourite chains in NYC because of the freshness of the dishes and the incredible flavours that come through from the expertly composed dishes. I recommend the $29 Fixed Price Brunch as you get a great sample of their most popular dishes.
From here you can take a wander on the Highline which is a disused New York Central Railway Spur which was turned into a beautifully landscaped garden walkway in 2009. Have a walk along the 1.5 mile walkway and return back to the southernmost point at Gansevoot Street. From here, wander south to 90 Bedford St which is a very important address because it's the building used for the panning shot in the TV show Friends.
Settle down on Sullivan Street for lunch at Senza Gluten. This is a 100% gluten free Italian restaurant with epic pizza and dough sticks. BUT, don't have pudding! Trust me on this one!
Exit Senza Gluten and turn right, then turn left down Bleeker Street and hook a left onto LaGuardia Place. At the end of the block, is a place called DŌ. It sells cookie dough served like ice cream, and yes, it does gluten free options! Hells yeah!
The area you will be in, is called Greenwich Village and has some great independent boutique shops amongst its named-not numbered- streets. So take this opportunity to wander round the shops and boutiques and even the New York Fire Museum which is pretty cool (read: geeky!)
For dinner, there's another 100% gluten free restaurant Risotteria Melotti or, you can just head to the rooftop bar: Bar Hugo for drinks, snacks and views of the south of Manhattan!
Day 3 - Lower Manhattan (South of Houston Street AKA SOHO)
No trip to NYC is complete without a visit to Katz Deli for a traditional New York Jewish breakfast. Sit where Harry & Sally sat in the movie and order heaps of pastrami, pickles, latkes, chicken soup and cream soda. Just down the road from Katz's is a Whole Foods which you can pick up some gluten free bagels from and then ask Katz's to fill it with pastrami or salt beef for you. They're good like that.
From here walk down 3rd Avenue (becomes Bowery) through Little Italy and China Town to Ground Zero. Such a harrowing sight but really informative, powerful and necessary to visit.
Just near Fulton Street Subway is a place called Melt Shop . And guess what? It does cheese toasties. Bloody epic ones! They do gluten free toasties and are clued up about free from options and cross contamination.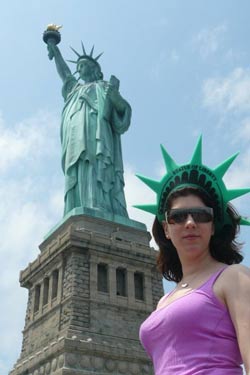 From here, head down to Wall Street (and see the Charging Bull and Fearless Girl sculptures) and hitch a boat to Ellis Island for the Statue of Liberty. You'll need to book this bit in advance if you want to go up the Statue of Liberty but the museums on the island are interesting too and don't need booking.
Then head back to Manhattan, grab a yellow cab to dinner at  Sarabeths in Tribeca which does gorgeous New World food and have a great focus on gluten free options. You must try their meatballs!
Day 4 - Midtown
Start your day at 263 East 10th Street at Jennifer's Way which is a totally gluten free bakery. You must try the carrot cake and I suggest grabbing some granola for the road (and for munching tomorrow on the way to Brooklyn.)
From here, head to the Empire state Building via the Trader Joes on East 14th Street. Trader Joes is one of my favourite supermarket chains in the US. It's like Marks and Spencers in the UK in regards to the fact that everything is Traders Joes own brand. They have a great array of gluten free snacks and even have waffles and pancakes in their freezer section. One of my favourite snacks is broccoli crisps and semi popped buttery popcorn. Please bring me back some!
Head up 5th Avenue to the Empire State building and head on up to the heights of the 102nd floor for spectacular views of the city. There' s also a really interesting exhibition at the top as well about the construction of the 1930's building which was -until 1970- the tallest building in Manhattan.
S'Mac should be your stop for lunch at Murray Hill - just a few blocks from the Empire State Building. It does gluten free Mac n Cheese so guuud that you'll forget its gluten free!
Then, on to Times Square and 5th Avenue for obligatory tourist bits and some retail therapy. It totally upsets me that FAO Schwartz the incredible Flagship toy store is no longer on 5th Avenue; but you can take a look around Tiffany's 5 storeys of sparkles instead!
Walking south along Park Avenue will bring you to The Little Beet Table  for your dinner. This stunning restaurant is 100% gluten free too. The dishes are all simple, fresh and beautifully done. One of my favourite dishes is the burger. It is succulent, rich and the bun is beautifully bouncy. You will definitely have a food baby after eating here!
Day 5 - Brooklyn
A trip in New York is never complete without hopping from Manhattan to its slightly cooler more hipster brother: Brooklyn. Facing the East River and Manhattan is Brooklyn Heights. There's not too much to do here but the old redbrick houses and views of the city and the Status of Liberty will make you think you're in a movie.
Have a brunch at DeKalb Market Hall at Albee Square in West Brooklyn. This Market Hall has a collection of 40 street food vendors which changes every so often. There's great start up food companies here and you'll always find something exciting. I recommend the arepas from Arepa Lady, DeKalb Taco, Wiki Wiki Hawaiian food and summer rolls from Two Tablespoons.
You can then take a stroll to Prospect Park and around the stunning Brooklyn Botanic Gardens OR hop on a bus to Coney Island if it's summer time as that neighbourhood transforms into a pretty awesome fair with roller coasters, and amusement arcades and streets lined with performers.
A gorgeous gem I found last time I was in New York was Miriam Restaurant. This Middle Eastern bistro serves up some truly innovative middle eastern Israeli style dishes that are just so darn comforting and exquisite!
Try and catch a basketball game at the Barclays Centre after dinner. The Nets basketball team are much more friendly than the Knicks who are the Manhattan based team. For some reason, the Knicks has got quite corporate and tickets are mostly bought by businessmen and corporate sponsors. The Brooklyn Nets on the other hand are a really friendly team where you feel like you're sitting amongst real supporters.
If you want a real romantic, spectacular end to your trip, walk over Brooklyn Bridge back to Manhattan. What an awesome walk that is. The views are second to none and you really do get a feeling that New York is your city.
Enjoy!!!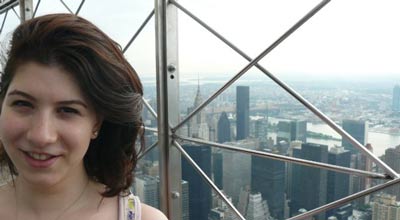 I really hope that these tips and plans help you in your travels to NYC. Even if you don't follow this agenda to the letter, you are sure of so many free-from offerings around the city. They are really clued up on gluten free and are so willing to help!

Please note that all the above are notes from my own personal travels and are not affiliated to any company.
October 2017
For more articles on travelling with allergies and intolerances see here.