TOURETTE SYNDROME: Stop your tics by learning what triggers them by Sheila Rogers DeMare
Review by Hannah Lawrence
Publication – January 2018
Pre-order it from Amazon US – pre-order it from Amazon UK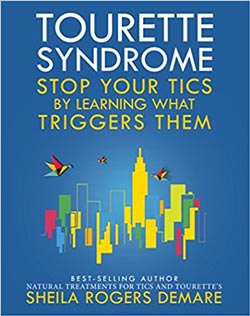 Sheila Rogers DeMare is the founder and director of the excellent Association for Comprehensive NeuroTherapy (ACN)—and editor of its website Latitudes.org. ACN is a non-profit American organisation which explores non-drug based, often nutritional, approaches to treating anxiety, autism, attention deficit/ hyperactivity disorder, depression, obsessive compulsive disorder, tics and Tourette syndrome, and learning disabilities.
In Tourette Syndrome: Stop your tics by learning what triggers them, Rogers DeMare looks into the 'received wisdom' that Tourette syndrome is generic and that there's very little that can be done about the tics. She asks why Tourette's used to be rare, but the number of people with it has been rapidly increasing for decades; one study suggests that 1 in 100 children have it.
Diet, allergy, lifestyle and the environment
There is shamefully little research in this area but, Rogers DeMare believes, dietary, allergic, environmental and other lifestyle factors are responsible for the rise; she points out that we
know a lot about triggers for asthma and allergies—not so much for Tourette syndrome and tics—and suggests that foods and other common allergens, plus environmental conditions do indeed trigger tic attacks. Rogers DeMare draws on the wide knowledge of the Tourette's community—and her own experience as the mother of a child with Tourette syndrome—to discuss these potential triggers and suggest how to eliminate (or at least manage) them.
Personal experience
She tells the fascinating story of her son's diagnosis with Tourette's in the 1990s. Having been advised by her doctor that there was no cure: frustrated at every turn, with little support material or information available, and dismayed at her son's worsening condition, she despaired of ever being to help him. But after consulting Dr Albert Robbins—an allergist and environmental physician—she learned to observe, manage and eliminate the environmental factors that were triggering his attacks.
'For the first time, I had new hope for my child. We learned how the immune system, the environment, diet and allergy can affect the nervous system and the brain, triggering tics. When these types of issues were addressed, tic symptoms disappeared, along with the behavioural and emotional concerns.' And the effects were remarkable: 'Within a few weeks, there was observable improvement and we knew we were on the right track. Within six months, a devastating condition had been brought well under control. We were thrilled with the results.'
But when Rogers DeMare tried to share her discoveries with the medical community, she was only met with scepticism; this eventually encouraged her to found the ACN so she could spread the message herself.
The environmental approach
This book condenses what she's learned: 'Prior to this experience, I did not know people could react negatively to low levels of common toxins like cleaning products and scented items. I had no idea that sugars, certain foods, allergens, and synthetic additives could affect behaviour and aggravate tics. I did not know that the health of the digestive system was connected to the functioning of the brain and nervous system.'
The triggers are different for every person, and Rogers DeMare guides you to discover what they are, taking you step-by-step through the process, as she learned to do it herself. 'If someone had asked me before this healing if I had ever noticed triggers for either my son's tics or his behavioural changes, I would have said no. I never knew to look!! In fact I was not even aware that he was allergic.'
She realised that mould, plus certain food and drinks were making his tics worse; reactions to dust, insect bites and perfumes were also contributing. It also transpired that a systemic candida overgrowth was affecting his digestion and again aggravating the problems and, indeed, subsequent research indicates that there is a significant correlation between allergies and Tourette Syndrome.
The book
The book covers typically problematic foods and food additives, as well as chemical, environmental, medication and even lifestyle and sensory sensitivities. The book also features real-life stories—some of them frankly heart-breaking—and advice from the tic community.
The media often stereotypes the person with Tourette's as shouting obscenities randomly, but this syndrome is much more varied (and devastating) than these portrayals would have you believe. Rogers DeMare shares the story of a boy whose tics were so bad, he had to walk on all fours. Another child was unable to read because her head kept jerking back and her hands kept ripping pages out of her books. Another boy couldn't feed himself as he couldn't control his hands, and could not even speak at times because of the tics. But, in all these cases, the symptoms were improved—or even eliminated—by identifying and avoiding the triggers responsible.
These experiences of people with Tourette Syndrome—and the findings of those who look after children with tics—combined with the latest (albeit limited) research that's out there, make for a really interesting book. It could be fantastically helpful for those who have—or care for someone with—a tic disorder.
As the mother of an autistic child, I found it particularly fascinating; having first assumed that it wouldn't be directly relevant to me, it actually described some of my own child's behavioural quirks perfectly. I'll be using some of the tips and advice from my book in my own life to see what difference it makes.
When her son's Tourette syndrome was at its worst—in the depths of her despair—Rogers DeMare turned to her sister support. 'You never know, Sheila,' her sister consoled, 'Maybe someday, you will be able to help other people who are dealing with Tourette's.'
This book—and the work of the ACN—is the fruit of that thought. While more research into tics is desperately needed—and Rogers DeMare rightfully rallies throughout for more studies and investigation—this book provides vital help and support for those with Tourette Syndrome.
Publication – January 2018
Pre-order it from Amazon US – pre-order it from Amazon UK
Click here for more articles on behavioural problems.