Berrydales Books
Berrydales Books offers a small list of food allergy/sensitivity, food intolerance and 'freefrom' food related books – some as e-books, some as print books, some as both.
Please click on the links below for more details on each book or contact Michelle for more details on the list.
---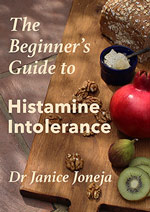 Dr Janice Joneja, a world expert on histamine intolerance, has created an easy-to-read guide to help you understand whether you might be histamine intolerant, and, if so, what you can do about it. Paperback and ebook.

---
Dr Janice Joneja has specialised in the clinical management of histamine sensitivity since the 1990s. Following on from her extemely successful Beginner's Guide, she has now distilled over 20 years of experience into this much more comprehensive, fully referenced guide for health professionals. Included are cases studies, treatment advice including medications, and a full food list. Ebook only.

---
Anna Del Conte, the doyenne of Italian cooking and author of nearly 20 books on Italian food, turns her attention to freefrom. Working with Michelle Berriedale-Johnson, freefrom expert and author of more than 10 books on freefrom food, Anna has created both new and classic Italian dishes for those who wish to exclude gluten or dairy from their diet. 
To come: FreeFrom all'Italiana – Dolci
See here for a video of Anna and Michelle talking about the book; see here for videos of Anna and Michelle talking about freefrom Italian antipasti, dolci and local Italian produce.
---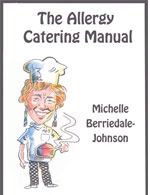 In this fully revised and updated book, leading 'free from' expert and FreeFrom Eating Out Awards Director Michelle Berriedale-Johnson outlines everything caterers, chefs, restaurateurs and other food service providers need to know to boost their food offering to diners on any restricted diet. See here for more on the book and a short video about it.
---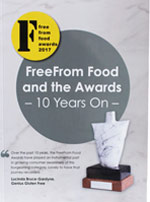 The FreeFrom Food Awards 10th anniversary book – following the development of 'freefrom' food through the prism of the FreeFrom Food Awards. See here for more on the book and for a short video about it.
---