Toxic turf – lead and other toxic materials in artificial turf– 07/08 and an update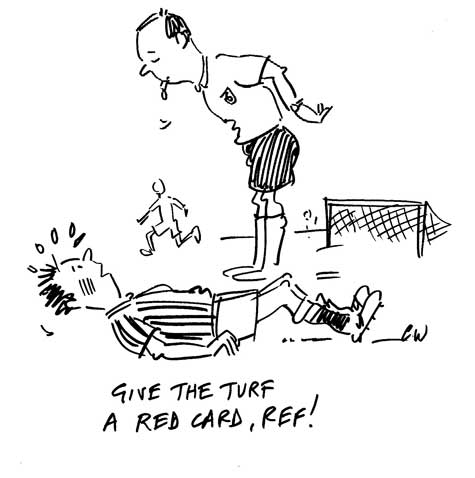 AstroTurf, a leading maker of artificial grass for athletic fields, has agreed to a stringent new lead-safety standard in California under the settlement of a lawsuit brought by the state and local authorities after the non-profit Center for Environmental Health reported finding lead concentrations as high as 10,000 parts per million in the artificial turf made by dozens of manufacturers.

AstroTurf, a division of privately held Textile Management Associates in Dalton, Georgia, was one of six companies targeted by the litigation and the first to negotiate a settlement.

Health experts have raised concerns about health risks to children from exposure to lead in synthetic grass saying that youngsters can pick up lead that wipes off the turf onto their hands and is ingested from hand-to-mouth contact. Exposure also occurs when aging turf breaks down and releases lead-tainted dust that is breathed in or swallowed.

The settlement limits the amount of lead in AstroTurf products sold in California to 50 parts per million starting in June 2010 – half the level in voluntary nationwide guidelines set last year by the US Consumer Product Safety Commission. However, this standard is likely to apply nationwide as AstroTurf won't make a separate line for the rest of the country and rival companies will be likely to follow suit.

However, parents should be aware that lead is not the only potentially dangerous substance to be found in AstroTurf – see below.
Artificial turf is made with a core of rubber 'crumbs' to produce a soft and forgiving surface. However, these crumbs, obtained by grinding up tyres, have been found to give off dozens of toxic, cancer-causing, mutation- triggering chemicals and metals, which, on hot days, and especially if there is not much wind, could potentially affect anyone using the turf.

Few, if any tyres are made from natural latex rubber and most are made from synthetic petroleum-based substances. Different tyres contain different ingredients and give off different chemicals in different
proportions, so assessing the precise risks presented by these substances may require decades of work.

Meanwhile, minced tyres continue to be sold not only as a core for artificial turf, but also as a mulch, and as a surface for playgrounds, promoted by a tyre industry cock-a-hoop at having found a lucrative way to dispose of used tyres, which would otherwise present a huge problem.

A comprehensive California study has already found that when the rubber crumbs were heated to temperatures likely to occur on a sunny day, they released potentially dangerous compounds, including a carcinogen and several others that can irritate people's eyes, skin and respiratory systems. The study recommended limiting exposure, particularly for people who have allergies or asthma, and called for further studies of the health effects. Full report
Some official bodies are still giving assurances that the chemicals in artificial turf are little cause for concern, but environmentalists and a growing number of public officials around the world are questioning the wisdom of installing artificial sports surfaces, each of which can contain the equivalent of up to 26,000 tyres of unknown composition.

Civic officials in several areas in the US have already blocked plans to install new artificial surfaces, and the US Consumer Product Safety Commission is looking into the possible health hazards of lead in artificial turf installed at schools, parks and stadiums across the country. (Pigment containing lead chromate is used in some surfaces to make the turf green and hold its colour in sunlight.)

Authorities in Sweden are recommending that crumb rubber is not used in artificial turf, South Korea's education ministry is investigating the safety of the material following student complaints, and a study undertaken last year by the Italian minister of health concluded that synthetic turf fields are potentially carcinogenic.

Read more
Click here for more research on chemical sensitivity
First Published in July 2008 update in November 2009