Recipes from Freefrom Cooks and Cookery Writers
Ever more chefs and cookery writers are cooking freefrom. Below are reviews of some of their books and some sample recipes.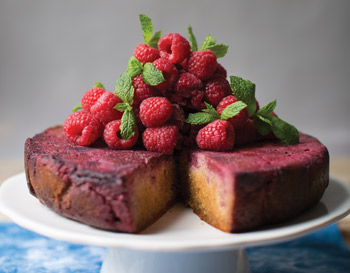 Raspberry Upside-Down Cake
from Finn's World by Finn Ní Fhaoláin
Finn's World by Finn Ní Fhaoláin
Coconut Oil: Recipes For Real Life by Lucy Bee
The Gut Health Diet Plan: Recipes To Improve Digestive Health And Boost Well­being by Christine Bailey
Raw Beet by Sarah Willes, Hattie Deards, Rachel Martino & Annabel Graham Wood - healthy gluten free, raw and vegan recipes
Gluten, Dairy, Soya, Nut Free Cooking by Nada Farina
Gloriously Gluten Free by Susanna Booth
Gluten Free Secrets by Anette Harbech Olesen & Lone Bendtsen

The Best Gluten-Free & Dairy-Free Baking Recipes by Grace Cheetham
Dairy-Free Delicious by Katy Salter
Gluten-Free & Easy by Sara Lewis
The Deliciously Conscious Cookbook by Belinda Connolly
Gluten Free Baking and Living Cressida Langlands reviews the Basic Baking Day.
Do/Sourdough by Andew Whitley – what sourdough is; the super-digestibility of long fermented bread; how to make a starter; how to bake the bread; recipes – and lots more...
Natural Power Foods by Christine Bailey. Recipes (all freefrom of course!) to enable you to harness the natural power of food and boost your mood.
Simply Gluten Free by Rita Greer - Rita Greer's Helpful Kitchen Handbook
The Gourmet Rotation Diet by Joyce Weaver. Detailed instructions, menus, shopping lists and recipes for a four day rotation diet.
Gluten, Wheat and Dairy-free Cooking Made Easy picnics, finger food and lunch boxes – Antoinette Savill's first dedicated on-line cookery book complete with QR codes.
Truly, Madly Healthy by Jemma Govier
Jemma is a personal fitness trainer and these are her recipes for a fit and healthy (gluten and dairy-free) life!
Diabetic Cooking for One or Two by Michelle Berriedale-Johnson
Finally... Food I Can Eat by Shirley Plant
Shirley Plant is a nutritionist and author of Finally...Food I Can Eat a dietary guide and cookbook for people with food allergies. Through her consultancy, Delicious Alternatives, she helps people to menu plan and customize recipes to their dietary needs.

Gluten-, Nut-, Egg-, and Dairy-free Celebration Cakes by Gemma McFarlane
Over 40 recipes for freefrom celebration cakes - and how to make amazing celebration icings and frostings.
The Irish Seaweed Kitchen by Prannie Rhatigan
Over 150 recipes and over 100 wonderful colour photos plus lots of nutritoionala nd historical information about seaweed and how it is grown and used in the west of Ireland.
Eating well Three books by nutritionist Michaela Rose
Nutritonist Micki Rose has been developing 'freefrom' recipes for her patients and herself (she suffers from multiple food intolerances) for years.
No Naughties – Sweet treats without sugar, wheat, gluten and yeast by Tarja Moles
All those delicious cakes, biscuits and puddings that you thought you would never be able to eat again!
Candida Can Be Fun! by Rebecca Richardson
A specialist 'free from' cookbook for people with Candida-related symptoms
Seriously Good Gluten-free Cooking for Kids by Phil Vickery
The third in Phil's series of gltuen-free cookbooks.
The Intolerant Gourmet by Pippa Kendrick
Delicious allergy-friendly recipes that everyone can enjoy
Wheat-free Cooking by Rita Greer
A classic, revised and updated.
No Meat, No Dairy, No gluten – Just Flavour and Goodness by Wendy Horne
Simple and delicious recipes for everyday cooking
Cake Angels by Julia Thomas
A whole book full of delicious looking and tasting, easy to make glutenand dairy-free cakes!
The Food Allergy Cookbookby Carmel Nelson and Amra Ibrisimovic
Very helpful allergy recipe book by two food-intolerant schoolfriends who, between them, cannot tolerate wheat, barley, corn, soya, oats and dairy.
Hamlyn's 200 gluten-free recipes by Louise Blair
200 fully illustrated tasty-looking g-f recipes for a mere £4.99!
I'm Hungry by Tanya Wright
Easy family recipes free from milk, egg, soya, wheat and gluten
Cooking gluten, wheat and dairy free by Michelle Berriedale-Johnson
200 recipes for coeliacs, wheat, lactose and diary intolerants
Simply Gluten-free and Dairy-free by Grace Cheetham
Breakfasts, lunches, treats, dinners, desserts...
Iced Gem Bakes and Cakes by Gemma McFarlane
Your guide to making, dairy, egg, gluten and wheat-free celebration cakes
Christine Bailey's Gluten-free Solutions – Breakfast
The first in a series of downloadable gluten-free cookbooks.
Seriously Good Gluten-free Baking by Phil Vickery
Over 70 delicious gluten-free cakes, biscuits, desserts and breads – with lovely photographs from Tara Fisher.

Free and Easy Cooking
An e-book of good everyday recipes by Linda Mercer who also runs Billy Goat Stuff, who make excellent goat's milk chocolates.
I Love Raw Chocolate
A new book – with a special offer for foodsmatter.com visitors – from raw chocolate expert Liz Bygrave
Iced Gem Cakes
Gemma McFarlane of 'Iced Gem Cakes' explains how to make a perfect gluten-free Victoria sponge.
Making your own dairy-free 'milk'
Micki Rose has some amazingly easy and delicious suggestions
Learn to cook wheat, gluten and dairy free
100 step-by-step recipes by Antoinette Savill
Make more of Squashes... – Make More of Beans & Peas
by Patricia Harbottle, Peter Chadwick and Elizabeth Winkler
I love Ice Cream booklet
by Liz Bygrave
Seriously Good! Gluten-free cooking
by Phil Vickery
Go Dairy Free
by Alisa Fleming
Dairy and Egg Free Cake Recipes
by Katie Crookston
The best gluten-free, wheat-free and dairy-free recipes
by Grace Cheetham
How to cook for food allergies
by Lucinda Bruce-Gardyne
Allergy-friendly cookbook - no eggs, no dairy, no gluten, no nuts
by Alice Sherwood
The Complete Guide to Gluten-free and Dairy-free Cooking
by Glenis Lucas
The big wheat and gluten free cookbook
by Jody Vassallo
Sharing Sweet Secrets - gluten and wheat free
by Pamela Moriarty
Bread Matters - the state of modern bread and a definitive guide to baking on your own
by Andrew Whitley
Eat to Beat Fatigue
by Jane Harris
Tony's Lactose Free Cookbook
by Professor Anthony Campbell
Wheat and Gluten-Free Home Baking
by Lola Workman
Lawrence Keogh's Rediscovering Food and Flavours
by Lawrence Keogh