Lemon Bunny Biscuits
Corn, egg, gluten, lactose, milk, nightshade, nut, peanut, sesame & wheat free
If your dough is very soft or your cutters are quite intricate, you can roll the dough straight onto the baking paper and cut the biscuits with gaps in between. You can then remove the excess dough and slide the paper straight onto the tray.
Makes about 12 biscuits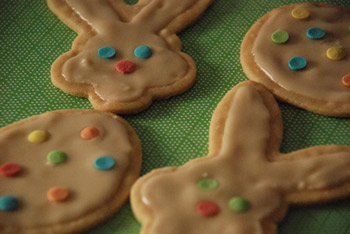 Ingredients
75g dairy free spread

50g sugar

zest of 1 lemon

40g dairy free cream cheese

150g plain gluten free flour

pinch of salt

¼ tsp gluten free baking powder
Icing
100g icing sugar
4-6 tsp lemon juice
Method
Beat the spread and sugar together until creamy.

Stir in the lemon zest and cream cheese.

Fold in the flour, salt and baking powder until completely combined.

Wrap in cling film and chill for at least 30 minutes.

Heat the oven to 180°C / 350°F / gas 4.

Lightly dust your work surface with gluten free flour and roll out the dough to the thickness of a pound coin.

Keep lightly dusting the rolling pin and dough as required as it is quite sticky.

Cut out biscuits and place on a lined tray.

Bake for about 12 minutes until the edges are just starting to brown.
Let the biscuits cool a little before moving to a cooling rack.
Icing
Sieve 100g icing sugar into a bowl.
Mix in the lemon juice a teaspoon at a time until you have the desired consistency.
Add food colouring if you like.
Spread the icing on the biscuits and decorate as desired.
We have over 800 delicious freefrom recipes on this site all of which are gluten free, most of which are dairy and lactose free and many of which are free of most other allergens. Please go to the following sections to try them out: