Fruity Oat Snacks
Corn, gluten, lactose, milk, nightshade, nut, peanut, sesame, soya & wheat free
I have called these snacks as they are more hearty and filling and less sweet than a biscuit. They have a soft texture but hold together well.
Makes 8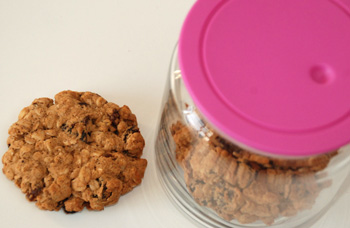 Ingredients
1 egg

50g coconut oil

3 tbsp coconut palm sugar / brown sugar

1 tbsp maple syrup

50g wholemeal cassava flour

100g gluten free oats

1 tsp gluten free baking powder

50g sultanas

60g dried apricots

1 tsp mixed spice

1 tsp ginger

1 tsp cinnamon
Method
Preheat the oven to 180°C / gas 4.

Line a tray with baking parchment.

Melt the coconut oil in the microwave or in a saucepan over a low heat and leave to cool a little.

Cut or chop each apricot into 4-6 pieces.

Mix together the flour, oats, baking powder, sultanas, apricots and spices.

Beat an egg into the coconut oil and stir in the sugar and maple syrup.

Pour the liquid into the dry ingredients and mix well.

Spoon the mixture into 8 equal sized piles on the baking tray.

Flatten to about 1cm and neaten the edges.

Bake for about 15 minutes until the edges are starting to brown.

Leave to cool on the tray before transferring to a wire rack.

Store in an airtight container.
We have over 800 delicious freefrom recipes on this site all of which are gluten free, most of which are dairy and lactose free and many of which are free of most other allergens. Please go to the following sections to try them out: