Simnel Cupcakes
Gluten, lactose, milk, nightshade, peanut, sesame, soya & wheat free
Makes 12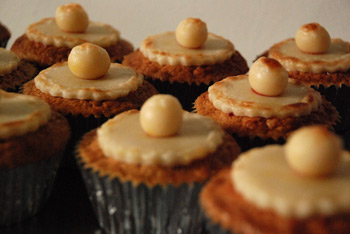 Ingredients
75g gluten free plain flour
35g corn flour
40g ground almonds
1 tsp gluten free baking powder
150g caster sugar
150g dairy free spread
3 eggs
2 tsp mixed spice
zest of 2 lemons
200g mixed fruit
300g marzipan
1 egg to glaze (optional)
Method
Preheat the oven to 180°C / 350°F / gas 4.
Place 12 cupcake cases in a muffin tray.
Mix the flours, almonds and baking powder thoroughly.
In another bowl, beat the caster sugar and dairy free spread until creamy.
Add the eggs one at a time.
If the mixture starts to curdle, add a spoon of the flour mixture.
Stir in the spice, lemon zest and mixed fruit until well dispursed.
Fold the flour mixture in.
Take 100g of the marzipan and divide into 12 pieces.
Roll into balls and flatten a bit.
Half fill each case with mixture and put a marzipan disc in each one.
Top up with the remaining mixture and bake for 25 minutes.
Roll out the rest of the marzipan, dusting with icing sugar as needed.
Cut out 12 small circles using a cutter or a glass.
Roll the remaining marzipan into 12 balls.
Place the marzipan circles on top while the cakes are still warm or use jam to stick them on.
Add a marzipan ball to each cake.
You can leave them like this or use beaten egg to glaze the marzipan.
Place under the grill briefly to toast.
We have over 800 delicious freefrom recipes on this site all of which are gluten free, most of which are dairy and lactose free and many of which are free of most other allergens. Please go to the following sections to try them out: