Brown Bread Ice Cream
Corn, gluten, lactose, milk, nightshade, nut, peanut, sesame & wheat free
Since gluten free bread doesn't stay fresh for long, this is ideal for any slices that are past their best. Not the best looking ice cream but seriously tasty. It does have raw egg in but you could leave the egg out completely if you prefer for a slightly less rich flavour and denser texture.
Serves 8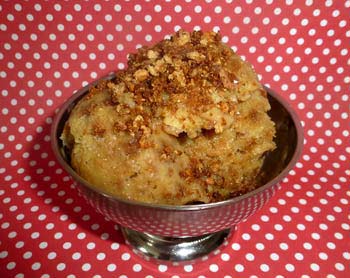 Ingredients
100g gluten free brown bread
100g dark muscovado sugar
500ml dairy free custard (I used Alpro soya)
2 eggs separated
Method
Whizz the bread to make breadcrumbs and then mix with the sugar.
Spread the breadcrumbs out on a tray and place under a grill for 3 to 4 minutes.
Give the crumbs a stir and leave to cool.
Beat the custard with the egg yolks.
In a separate bowl whisk the egg whites until they form stiff peaks.
Fold the egg whites into the custard.
Gently stir in the breadcrumbs, saving some to sprinkle on top.
Pour into an ice cream maker or into a tub to freeze.
Stir regularly if you are freezing the mixture to stop ice crystals forming.
To serve, move from the freezer to the fridge for 20 minutes and then out of the fridge for another 10 minutes.
Serve with the remaining breadcrumbs sprinkled on top.
We have over 800 delicious freefrom recipes on this site all of which are gluten free, most of which are dairy and lactose free and many of which are free of most other allergens. Please go to the following sections to try them out: