Spiced Mince with White Beans
Corn, egg, gluten, lactose, milk, nightshade, nut, peanut, sesame, soya & wheat free
Similar to chilli con carne but with milder spicing and creamier beans. Serve with rice or baked potato.
Serves 4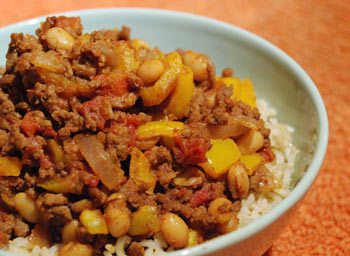 Ingredients
1 tbsp olive oil

2 onions, chopped

2 cloves garlic, crushed

2 tsp cumin

2 tsp medium chilli powder

½ tsp paprika

500g beef mince

1 can tomatoes

1 beef stock cube

1 can haricot or other white beans

salt and freshly ground black pepper
Method
Heat the olive oil in a large pan and then cook the onions over a medium heat for at least 5 minutes.

Add the garlic and spices and cook for a minute or 2 while stirring constantly.

Stir in the beef and cook until most of it has browned.

Pour in the tomatoes and crumble in the stock cube.

Bring to a boil then reduce to a simmer.

Cover and cook for 30 minutes.

Drain the beans and add to the mince.

Cook for a further 5-10 minutes with no lid.

Add salt and pepper to taste and serve with rice or baked potatoes.
We have over 800 delicious freefrom recipes on this site all of which are gluten free, most of which are dairy and lactose free and many of which are free of most other allergens. Please go to the following sections to try them out: