Crispy Rice Balls
Egg, gluten, lactose, milk, nut, peanut, sesame, soya & wheat free
Makes 50-70 depending on size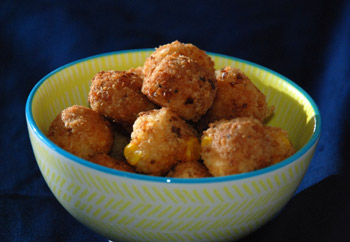 Ingredients
2 tbsp dairy free spread

100g gluten free flour

250ml coconut milk

salt

120g cooked sweetcorn

150g cooked basmati rice

2 red chillies

6cm lemon grass (bottom part of stem)

2-3 big handfuls of gluten free bread crumbs

oil for shallow frying
Method
Melt the dairy free spread gently in a saucepan.

Add the flour, mix and cook for a minute.

Slowly add the coconut milk while continuing to stir.

Keep stirring and cooking until you have a smooth, thick sauce.

Add salt to taste and remove from the heat.

Put the chilli and lemon grass in a food processor and whizz until finely chopped.

Add the sweetcorn and briefly whizz until broken down a bit.

Stir the sweetcorn mix into the sauce.

Once the mix has cooled, cover and chill.

When you are ready to make the balls, fill a shallow dish with the breadcrumbs.

Remove the mix from the fridge and roll into small balls.

As soon as you have rolled each ball, roll it in the breadcrumbs and place on a plate or tray ready to fry.

You could chill the balls at this stage to firm them up and cook them just before you need them.

When you want to serve them, heat about 5mm oil in a deep frying pan.

Turn the heat to medium – low and place the balls in.

Gently turn and move the balls from time to time so that they are crisp and brown all over.

Once cooked, remove them to a dish lined with kitchen roll to remove excess grease.

They are best served warm but they are still tasty once cold.
We have over 800 delicious freefrom recipes on this site all of which are gluten free, most of which are dairy and lactose free and many of which are free of most other allergens. Please go to the following sections to try them out: