The Natural & Organics Product Europe Show, London's ExCel,
April 2 - 3
With products specifically tailored to meet your needs throughout your lifetime from childhood onwards, Wild Nutrition's products are made with 'Food-Grown® Nutrients' which are more easily absorbed by the body than synthetic options. Each product lists 'Key Product Features' detailing what it is freefrom, whether it is Kosher, Vegan and/or contains excipients etc. Available from various independent shops and online.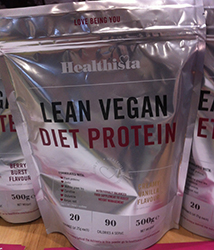 Healthista's vegan milk-free protein powder is made from pea, rice, hemp and sunflower seed powder in a natural berry flavour - suitable for adding to porridge, cereals etc, as well as a post-workout. Available online.
Arctic Power make power powders from wild-grown arctic berries such as lingonberries, cranberry, and sea buckthorn. With different properties and benefits, all the powders are raw, Paleo, and freefrom gluten, dairy, yeast, soy and nuts. Available online.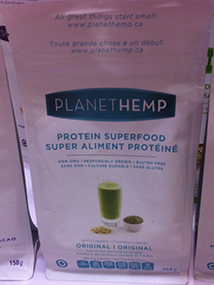 PlanetHemp all the way from Canada harnesses all the benefits of the Cannabis Sativa L. plant - source of protein, nutrient dense, essential fatty and amino acids, and easy to digest. The protein superfoods are raw, gluten free and vegan. Available from Amazon.
Superfruit Scandanavia makes 100% natural anti-oxidant rich supplements from fruits, berries and plants. They offer superfood powders, snack bars and balls, and whole nuts. The products are all vegan, and includes an organic protein mix.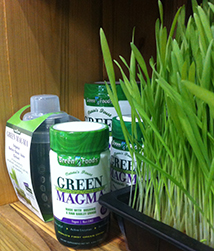 Green Foods make organic, vegan and gluten-free barley grass products, chlorella, carrot and beetroot essences - as well as barley powders for your dogs and cats! Grown in the USA, available from Amazon.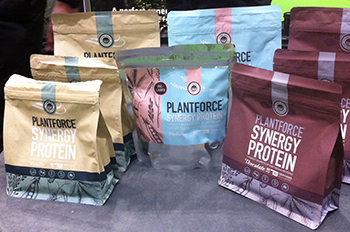 Plantforce, from Third Wave Nutrition, are dairy, lactose, soy and gluten-free vegan Synergy Proteins, made from pea, hemp and rice protein. They also make a magnesium supplement.
Purition
make wholefood nutrition blends, variously vegan and gluten-free, from hemp protein, or from whey protein isolate, in lots of different flavours such as chocolate, vanilla, almond, and pistachio.
Porshn make vegan, plant based power blends - revitalising, balancing and cleansing, with various green foods, maca and berries - nutrient dense, with vitamins and minerals; all free from dairy, gluten, soya and added sugar.
The next Natural & Organic Products Europe Show (Trade Only Event) is:
22-23 April 2018
ExCeL London