Green's Gluten-Free Beers
Sue Cane talks to Derek Green about his retirement venture.
Taking a sip of gluten free beer at a party this weekend you could be forgiven for thinking that no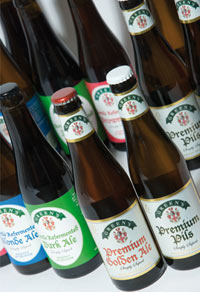 special alchemy was involved in its production but when in 2004 Derek Green began making beer, he had to turn the age-old combination of barley, yeast and hops on its head. Now head of an empire that manufacturers a range of 13 gluten-free beers and exports to 8 countries, Derek laughs as he looks back at his foray into beer-making during retirement.
'I just did it to get out the way of my wife,' laughs the Yorkshireman. 'There's a limit to how many miles you can run in a day.'
Derek Green, a textile manufacturer with no experience in the brewery trade, was getting bored during retirement. Unable to enjoy his customary glass of beer as he had been diagnosed with coeliac disease, he decided to see if he could make a gluten-free version. He spent two years trying to find a brewer in the UK with the necessary expertise.
'There was a lack of interest in the main. They said, "Yes we'd like to do it tell us what to do," but of course I couldn't do that as I was a businessman not a brewer.'

Derek was trying to make beer from ingredients that had never been used before. Fermentation in conventional beer-making depends on the specific sugars and proteins in barley (or wheat), but Derek wanted to remove this essential raw ingredient and substitute it with other grains.
'Even if we'd attempted to brew beer we wouldn't have had a chance because we didn't know about gluten-free cereals or grains at that point. It was a whole new ball game and people just weren't interested.'
The Belgians were prepared to 'have a go'...

It was a small craft brewery in Belgium who eventually saw the potential in his idea. They started with small trials, produced to Derek's taste: 'I was used to drinking beer myself and I had to stop, but I could still remember the beers I liked, so it was looking at those and trying to emulate them with different materials.
'Buckwheat, sorghum, millet and rice were the basis of the beer. We were looking at replacing wheat and barley with gluten-free materials. Technically it was quite difficult to do. That's where the brewing expertise comes in because to get them to ferment was problematic.'
But get them to ferment he did, and these first experiments back in 2004 led to a quickly expanding Green's label of over 9 gluten-free beers, all made without barley or wheat and with a large export market.
'Because I'm coeliac I think that's what's driven that. I got absolutely fed-up with being told I could have this or that product. Why should coeliacs be different from anybody else? That's what's been behind our philosophy from day one and once we'd got one beer we quickly went on to introduce others.'
Back to basics to keep up
This innovative approach has been the basis of Green's success and when advances in testing led to the developments of new, cheaper products in Spain, Derek realised that he had to come up with something different in order to maintain his share of the market. And so he went right back to basics.

In 2007 Estrella Damm, a Spanish brewery, began to develop a gluten-free beer made in the conventional way using barley. Using a new and more sensitive test for gluten, better at identifying peptides, the shorter, broken-down fragments of the long protein chains which are toxic for coeliacs, they were able to brew a beer which was certified under 20ppm. Derek knew he was under threat.

'We knew this problem was going to come and we knew it would affect our market share. So we had to do something. We knew as soon as it came over here it would change the whole face of gluten-free beer. If we didn't face up to that we would have been delisted by the supermarkets.'

So using a new brewery in Belgium, the enterprising Yorkshireman quickly came up with a new range of gluten-free beers made in the same way. Instead of substituting naturally gluten-free grains for the barley used in ordinary beer, Derek and his Spanish competitors, Ambar and Estrella, actually use barley, but during the brewing process the damaging protein, hordein, is broken down by the action of proteolytic enzymes into tiny molecular fragments too small to be identified by current tests.
This process of hydrolysis (literally the breaking up of bonds) occurs naturally during fermentation and means that with controlled brewing and testing, beer made from barley malt can now meet Codex standards.

As Derek says, 'The new beers are different. They're taking advantage of modern technology. Hydrolysation changes the structure of the protein and breaks it down. It's very technical. A system that's being used by more and more people. Basically it's chopped into thousands of pieces which stops it being harmful to coeliacs.'
Identikit beers
'Very technical' they may be, but the new beers are proving popular because they taste virtually identical to ordinary beer, a description which could not in all truthfulness be applied to most of the beer made without barley.
'Typically people will say, "It doesn't taste like John Smiths", and you say, "Well, no, it's different materials". But we're going to give people that choice. We still maintain some of the old beers with the new.'
This large range of beer accounts at least in part for Green's strength in the UK market. The new products using barley malt are easier and cheaper to produce. Sales are up and those in the US are going from strength to strength with the launch of three new bottle-conditioned beers over there.
Is Derek a little bit smug as he looks back from the now crowded market-place to his inauspicious beginnings all those years ago?
'We were the first,' he laughs, 'And that's nice, you know. I've never ever been first in anything in my life!'
To find out more about Green's beers go to www.glutenfreebeers.co.uk
First published in December 2010
Click here for more articles on alcohol and wine