The gluten and grain-free nettle beer that the government wants to call wine!
Sue Cane reports.

The rolling countryside above the densely wooded creeks of the Helston River in Cornwall seems an unlikely setting for battle between a forager and the tax man but that is where, since 2010, Miles Lavers, a wild-food expert and producer of nettle beer, has been fighting for his livelihood because of a dispute with HMRC.

Lavers, whose company FoodsWild makes Cornish Stingers, a gluten and grain-free nettle beer, had his stock seized by HMRC in 2010 after they chanced upon it during a spot check in a local brewery where the beer had been bottled.

The dispute hinges on whether or not Stingers can be classed as a beer as it contains no malted barley. Despite the well-documented history of nettle beer being brewed in this way in the UK, HMRC insist that Cornish Stingers is a 'made wine' and in order to continue brewing it Lavers has had to apply for a different licence and faces a demand for almost £10,000 in backdated duty on his previous sales.

Idyllic though the landscape may be, rural Cornwall is an area of high unemployment and the foraging business is a seasonal one. Lavers lives with his wife Alice and three children on a hilltop farm near Helston. He supplies locally-sourced wild food to chefs and restaurants and his nettle beer grew out of his love of experimentation with ingredients.

'I've always brewed, in all sorts of ways and with all sorts of weird things,' he says. 'I used to go to restaurants, taking wild flowers and seaweed to the chefs so I'd ask them to try out whatever I'd brewed,' he laughs.


Lavers' foraging business developed as he used
his encyclopaedic knowledge of edible plants and where they grow to supply the growing demand
for local, seasonal food. He describes how he
started, collecting ramsons and seaweed from hedgerows and seashore. 'The flowers on wild
garlic are great,' he enthuses, 'hot and garlicky and often people don't touch them. They're
brilliant on a soup or scattered in a salad,
with gorse flower for colour. I used to get up early, pick the stuff and then go round to chefs, like a chefs' sweet shop.'
(Asparagus & wild garlic soup – recipe here.)

Stinging nettles, their spring tips abundant and full of vitamins, were frequently used to flavour beer in the UK but fell out of fashion when hops became more widely used in the 1600s. Now they are having a resurgence in the brewing trade, with Cornish Stingers the only beer made from nettles alone. 'I've been brewing it since before Google,' Lavers declares. 'You can brew with anything, then later on you discover it was an ancient thing anyway'.

When the popularity of his own brew became apparent Lavers says he began to realize it had the potential to transform things for him. 'The foraging business is a new market and it's difficult to see it as any sort of big business.' But the beer 'was suddenly a different thing. I knew I could turn it from a lifestyle business into a real one, you know, and sell a lot of it, and it would still be wild and organic. So knowing I could do it, and how I could mass produce it, that's when I thought 'I've got a business here.''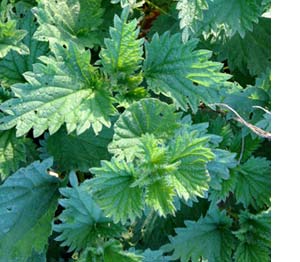 And does he still harvest the nettles himself, armed with rubber gloves and bin bags? 'Yeah,' he laughs, 'It's down to me with the Marigolds. I know a lot of farmers but it's getting organic farms as I've got to be careful of spraying and that sort of thing.'

He still brews at home in his farmhouse.
'A lot of the times I brew here and the brewery come and get it and just bottle it for me. I do barrels here for country fairs and weddings. People love it. It's a brilliant festival drink, a summer drink. It's amazing.' Stingers is made to Lavers' own recipe which gives the beer a delicate, grassy taste and a citrus, elderflower aroma. It smells of hay and summer.

Instead of malted barley, sugar is added to the mix of nettles and yeast and allowed to ferment. 'Malt is just a process of making sugar,' Lavers says. The reason I use sugar is you wouldn't taste the nettles otherwise.' It's a light, appealing drink, whose taste belies its strength. 'People are amazed that we've made this drink out of nettles and want to try it,' says Alice Rollinson, Lavers' wife.

Stingers is naturally gluten-free. Not only does it not contain any of the 'deglutenised' barley malt which is the contentious cornerstone of the new mainstream gluten-free beers, making them indistinguishable taste-wise from gluten-containing varieties but still problematic for sensitive coeliacs, it contains absolutely no grains at all, making it suitable for a much wider range of food intolerances.

Lavers still sounds bemused by its gluten-free credentials. 'That's a funny one. At first I didn't advertise that at all as I didn't realize, really, then the amount of people coming up to say 'Is that gluten-free…..?' So obviously everywhere I go I put a sign up now. Some vegan and vegetarian restaurants get it specifically and their customers love it because it's the only one they can have, so I think there's quite a big market for me in just that.'

Lavers now has his new 'made wine' licence which enables him to continue production, although he now pays a much higher rate of duty than other beer manufacturers. He has garnered support from local politicians who have been happy to speak up for him in his current dispute with HMRC.

'Stingers is a beer pure and simple. It has been made for centuries to the same recipe,' says MEP Ashley Fox. Lavers' own MP, George Eustice, thinks the decision should be overturned: 'Only the EU could claim that nettle beer is not a beer. This is a centuries-old recipe. We should be encouraging new enterprising businesses, not impounding their stock on the basis of mad EU rulings.'

Lavers is sanguine about it all. 'It's set me back a year or two but I'm still going to come back.' Does he think it is a beer? 'It is a beer, yeah, just not an ale. I mean it's like a herby beer or a ginger beer. It's made in exactly the same way.' And how does he see the future for his company with the dispute with HMRC still unresolved? 'We shall see. I feel better about this year. Last year was just very strange and really I had no business at all. I was staring down the barrel and in Cornwall it's very hard to find work.'

'Now the nettles are coming up and look amazing, for me at least,' he laughs. 'I've just brewed 5000 bottles, first time this year, and feel I've survived by the skin of my teeth. I'm just going to get permission to harvest seaweed to make a pub snack. And I've done a seaweed salt, a Cornish Sea salt. That tastes amazing as well.'
For more on Foodswild and for more on the beer – or to find local stockist – see www.cornishstingers.info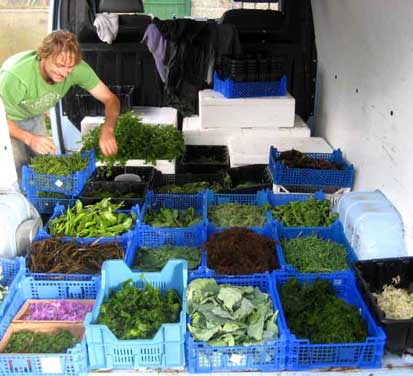 Miles with some of his foraged leaves
This article was first published in 2012
Read more articles about alcohol and wine