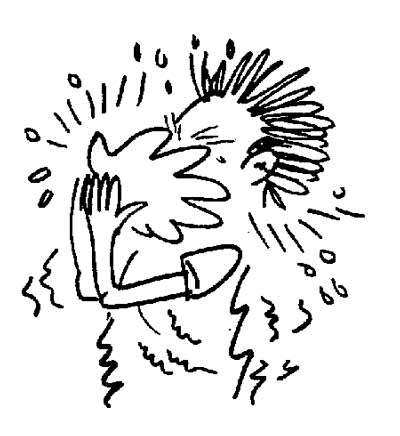 Please click on the links below to read our articles. If you are interested in research findings, click here for links to research reports.
For links to freefrom food products click here.
For articles on allergen-friendly, low pollen gardening see the Gardening section in 'Allergy & Intolerance')
Staying ahead with pollen. Nathalie Newman tells us how she manages for herself and her multi allergic son Callum. March 2018
Surely you can't have hay fever ALL YEAR ROUND! Ruth Holroyd's hay fever used to start in March but all of a sudden March has become January, before her Christmas dust allergy was even over! March 2016
Plant cross reactivity and its fallout for allergy sufferers. Environmental biologist Sue Killian describes how so many of our plants are inter-related, not only with each other but with many of the foods that we eat. January 2016
Respiratory allergy symptoms are set to worsen due to climate change, as air pollution increases the aggressiveness of pollen particles and extends the reproductive season of plants. June 2015
The Allergy Fighting Garden by Tom Ogren. A new book describing how the worldwide epidemic of allergic rhinitis/hay fever has been caused by the universal use of pollen bearing male trees in public spaces – and this can be combatted. February 2015
Can local Honey help my allergies? Tom Ogren of Safe Gardening says yes, although Wikipedia and Web MD don't agree...... November 2014
Immunotherapy for airborne allergens delivered via a toothpaste. October 2014
Alas, still no hay-fever-aware gardens at Chelsea Flower Show – blog post. May 2014
SPIREs (synthetic peptide immuno-regulatory epitopes) therapy shows promise for hay fever and dustmite sufferers. October 2013
The uglier the plant or flower, the more allergy-inducing its pollens tends to be! May 2013
Helpful blog from NY opthamologist on treating eye allergy/hay fever symptoms. May 2013
Although London plane trees produce 75% of pollen blanketing Sydney, only 25% of those who believe they react to it are right. September 2012
High olive pollen hits allergy sufferers around Jaén in Spain –June 2012
Bee pollen supplements can cause potentially life-threatening reactions in those with seasonal allergies. May 2012
Useful home-made remedies from Natural News. March 2012
Does your child have bad hay fever? And are they 4 to 11 years of age? If so, they could help us with a study looking at how we can prevent children with hay fever going on to develop asthma. June 2010
Wearing one-day contact lenses helpful for those with hay fever
March 2010
Cold winters encourage birch trees to pollinate early
Febuary 2010
Immunotherapy for hay fever and allergic respiratory conditions: a description of how immunotherapy works in practice and how it brings relief to sufferers of respiratory and allergic conditions – Dr Moisés Calderón 2008
Seasonal wheezes and sneezes: A clarification of allergic reactions that can take place throughout the year, through wet and dry weather, and possible treatments – Dr Harry Morrow Brown 2007
Allergy Academy – Allergy for non health-care professionals. Study day covering allergic rhinitis, food allergy and eczema.October 2012
Nasal allergies nuked by worms – John Scott reports
January 2011
Is it a cold or allergic rhinitis? WebMD offer a simple guide to differentiating between a common cold and allergic rhinitis. Febuary 2010
What is – and what causes – non allergic rhinitis? Before assuming that your rhinitis is caused by an allergic reaction it would be wise to check out the other possibilites. A lengthy article in Medical News Today describes the condition, the symptoms, the causes and the treatment. January2010
Reasons to deal with rhinitis and other allergies which impede proper breathing – a salutary warning from the Atlanta Dental Group – October 2009
Research Reports
Homeopathy for Allergic Rhinitis: A Systematic Review. Feb 2017
This article reviews the results of eleven trials of homeopathic remediesfor allergic rhinitis. 'The single trial with reliable evidence had a small positive treatment effect without statistical significance.' Due to the questionable quality of most of the research, the authors conclude that the usefulness of homeopathy for rhinitis remains unclear.
Probiotics improve quality of life for seasonal allergy (e.g. hay fever) sufferers.
Feb 2017
This study treated patients with seasonal allergy with a combined probiotic and reports that self-reported quality of life significantly improved when taking the probiotics. The mechanism for this improvement is unknown.
A Review of the Effects of Major Atmospheric Pollutants on Pollen Grains, Pollen Content, and Allergenicity. December 2015
Children with allergic disease, particularly asthma and hay fever, have about twice the rate of high blood pressure and high cholesterol, setting them on a course for heart disease at a surprisingly early age. Comment here. December 2015
Correlation of skin barrier impairment in atopic dermatitis with aeroallergen sensitization. November 2015
30 – 75% of those with hay fever may have oral allergy syndrome caused by raw fuits and vegetables, but symptoms can be avoided with cooking. Septemebr 2015
Nitrogen dioxide air pollution increases allergenicity in ragweed pollen. August 2015
New developments in allergen immunotherapy. August 2015
Eating oily fish may help kids avoid nasal allergies. August 2015
Regular consumption of oily fish and dietary long-chain n-3 PUFAs in childhood might decrease the risk of rhinitis, especially NAR, between the ages of 8 and 16 years. July 2015
Immunotherapy tablets for hayfever offer little benefit compared to injectable immunotherapy. July 2015
Researchers in Oslo show that allergen-specific T cells are resident in the mucosa outside the pollen season and react strongly to pollen extract, suggesting that these T cells are long-lived resident memory cells. This suggests that anti-inflammatory seasonal hay fever therapy should be initiated prior to season. May 2015
Mannitol as an excipient in rhinitis drug causes immediate allergic reaction. May 2015
Air pollutants could boost potency of common airborne allergens. March 2015
A new study strongly suggest that there will be a 200% increase in grass pollen production and allergen exposure in the next 100 years, as a result of predicted rises in carbon dioxide (CO2) and ozone (O3). November 2014
Ragweed pollen observed at record levels in air for first time in forty years in U.K. September 2014
Researchers identify how the protein Bet v 1 in birch pollen triggers allergy. June 2014
Despite its good success record, immunotherapy remains unpopular as a treatment for allergic rhinitis and seasonal allergies adn compliance is poor. June 2014
Sublingual once-a-day immunotherapy pill for ragweed/Artemesiaproves to be very successful. May 2013
Nasal filters help prevention of seasonal rhinitis induced by allergenic pollen grains. 04/12
NPARU study suggests that Haymax does help to prevent pollen and other airborne allergens 'getting up the nose'– 06/12
Hay fever may be worsened by eating fruit and vegetables – 04/12
Allergenicity of the pollens (birch, grass and olive) varies as, depending on the time of year and region, the pollens produce different quantities of protein compounds. 05/12
9 things that make allergies worse: hayfever and inhaled allergies
01/12
Child's hayfever relieved by cellulose powder with no adverse effects – 06/11
Climate change extends North American allergy season
02/11
and
Carbon emissions linked to Europe's hayfever rise
04/11
Study finds that pet allergies worsen hay fever symptoms
10/10
Hay fever helped by radiofrequency surgery
09/10
SLIT immunotherapy treatment for hay fever found to be successful in 19 clinical trials.
08/10
Sugar molecule in cowshed dust may protect farm children from hay fever
07/10
Study suggests that apple polyphenols may help hay fever
2006
Pycnogenol helps hay fever
07/10
All purpose respiratory allergy vaccine makes progress
06/10
Seasonal allergies (hay fever and pollen allergies) may worsen symptoms of depression
05/10
Haymax nose balm reduces amount of pollen entering the respiratory system.
05/10
Climate change appears to be extending allergy season
03/10
Night-time contact lenses could save allergy sufferers wearing itchy lenses during the day
11/09
Accupressure band helps hayfever (07/09)
Childhood hay fever
(04/09)
Hot pepper nose spray relieves hay fever
(04/09)
Hay fever vaccination works after treatment discontinued
(12/08)
Children with hayfever more likely to experience headaches and facial pain
(10/08)
Breathing through nose worsened by long-term hay fever
(07/08)
Daily contact lenses better for hayfever sufferers
(06/08) via JS
Planning hayfever-free holidays
(05/08) via JS
Hope for hayfever sufferers
(07/08)
Evidence that nitric oxide (NO) and nitrite could be hay fever trigger
(05/07) JS
Hay fever may affect exam performance
(08/07) JS
Carbon dioxide spray may benefit hayfever sufferers
(10/07) JS
Butterbur - a successful treatment for hay fever
(09/07) JS
A new way to avoid pollen
(10/04)
Antibiotics in the first week of life is a risk factor for allergic rhinitis at school age. June 2014
Studies on the use of probiotics in the treatment of alelrgic rhinitis. June 2-14 ongoing.
Despite its good success record, immunotherapy remains unpopular as a treatment for allergic rhinitis and seasonal allergies adn compliance is poor. June 2014
Infecting infants and children with controlled doses of bacteria may prevent allergic rhinitis. March 2014
The impact of pulmonary tuberculosis treatment on the prevalence of allergic rhinitis. August 2013
Two new studies provide more evidence of a link between migraine headaches and rhinitis. July 2013
Specific immunotherapy can greatly reduce the need for systemic steroids in allergic rhinitis September 2012
Sublingual immunotherapy (SLIT) is an effective and safe treatment for allergic rhinitis
0July 2012
Adding an oral vitamin D supplement to regular intranasal corticosteroid dosing can improve symptoms of seasonal allergic rhinitis beyond that seen with corticosteroids alone in patients who are not vitamin D deficient.
March 2012
Probiotics in early life continue to lower the risk for eczema and rhinoconjunctivitis until at least 4 years of age.Febuary 2012
The early employment of immunotherapy to treat rhinitis has the potential to prevent the allergic march and the possible subsequent development of asthma. March 2012
Detergent enzymes in healthcare workspaces cause asthma and rhinitis
August 2011
Can household environment in the early years influence the development of rhinitis symptoms?
August 2011
Kidney beans, chickpeas and peanuts are the major triggers for allergic ashtma and rhinitis in India November 2011
New model for predicting incidences and persistence of allergic rhinitis in adolescence
September 2011
It appears that sufferers from allergic rhinitis have better hearing...March 2011
Carbon dioxide-enriched water inhalation as treatment for allergic rhinitis
May 2011
Capsaicin intranasal spray for nonallergic rhinitis
April 2009
Probiotics help in treatment of allergic rhinitis
April 2011
Allergic conjunctivitis closely related to allergic rhinitis and asthma (11/09) and Sublingual immunotherapy show some promise in terms of treatment (07/11)
Can babies suffer from allergic rhinitis?
August 2010
Breast feeding reduces incidence of allergic rhinits in infants
May 2010
Allergy immunotherapy shots cut US healthcare costs significantly.
January 2010
Treating allergic rhinitis can improve other related conditions such as asthma and sinusitis.
November 2009
Positive results for birch pollen immunotherapy tablet for allergic rhinitis
November 2009
Nurse visits to asthmatic children's homes significantly improve their asthma management
1October 2009
Honey to treat your sinusitis?
December 2008
Allergic rhinitis diagnosis and treatment: new guidelines
(August 2008
Immunotherapy may relieve allergy symptoms
January 2008
Acupuncture can significantly reduce symptoms of nasal allergies.
September 2007
Rhinitis-allergy link
June 2007
Allergic rhinitis influenced by oral contraceptives
January 2007
First Published inOctober 2004
NB Information on this site is not a substitute for medical advice and no liability can be assumed for its use.