My fortnight with gluten....
Although never formally diagnosed with coeliac disease, Catherine Rose has not eaten gluten for 10 years. Now she is to be tested but, for the test to mean anything, she has to go back to eating gluten for two weeks. This is her diary of those two weeks....
---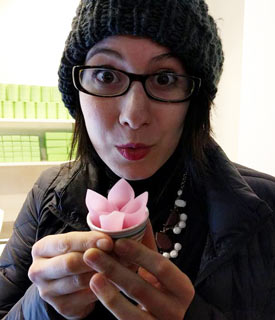 I am having a colonoscopy and gastroscopy in two weeks. I have never formally been diagnosed as a coeliac though it was indicated on some tests I had done by a psychopsyologist over 10 years ago that I probably did have Coeliac disease. I didn't know enough about gluten or coeliac disease back then and it was never suggested that I get a formal diagnosis. So I didn't. But my gastroenterologist has now offered me the chance to know for sure whilst I'm having my two endoscopies. And for that test to occur, I have to eat gluten for 2 weeks.
I've been gluten free for over a third of my life: starting in my first year of uni when gluten free produce was seen as weird, gross, and not at all fashionable! Ten years later, the market has changed DRAMATICALLY. The fact that I can eat decent, delicious, safe food  fairly easily and can even travel to far flung places and get by is phenomenal. But there are obviously some things that I crave. So I have come up with a list of the 14 things I miss the most and I will eat one of these per day.
And - I will document my physical and mental reaction to gluten in the hope that anyone who has to reintroduce gluten for medical tests gets an idea of what it may be like. (Please note, everyone is different though and people react to gluten in different physical manifestations.)
Nota Bene. I thought a lot about writing this diary. Especially as it is going on the Foods Matter site which celebrates and aids people with allergies and intolerances. I wondered whether it was fair to be touting how awesome gluten is. But I recently got a comment on my instagram from someone who said that they were living through my posts and enjoying seeing things that they remembered from their pre-gluten life.
So, given that many of the things I'm eating (apart from croissants, French bread and dim sum!) really aren't as great as I remembered, I'm hoping that this will not make any reader too envious or upset.
---
Day 1: YUM YUMS
It was always going to be Yum Yums first. Always. I have dreamt of these for the last decade. And do you know what? I didn't even eat them that much before I came off gluten!
I picked up a packet of 4 x Yum Yums from M&S on my way home from work. Part of me wanted to hate these sweet treats. I wanted to be so thoroughly underwhelmed by them that I'd never want them again. Unfortunately dear reader, that didn't happen. The sweetness was welcome, and the dough texture was so light and not at all chewy. It all kind of melted in my mouth. I savoured every mouthful.
I gave the remaining 3 to my partner Josh because I didn't want to push it on day 1 of the gluten challenge.
9/10 – Amazing texture. Totally what I expected. Scored down because I think I could live without these.
---
Day 2: TEMPURA
Deep down I am terrified of eating gluten. I am terrified of what it's doing to my insides after all this time. When I first got told to stop eating gluten, it was because I was having a lot of mental health issues, one of which was panic attacks. Apparently these issues were partly down to malabsorption of nutrients in my gut and therefore starving my brain of the things it needed to function correctly. As such, going back on gluten terrifies me that those issues will return and cripple me again.
So, I'm trying to focus on the good things. Food with friends. New and exciting food with friends!
Day 2 was Tempura and for this, I needed my dearest friend Gurmukh who is a chef and specialises in vegan and Japanese food. He knows all the best spots in London for Japanese food. We met up at Eat Tokyo in London's Soho.
The tempura looked epic. Fluffy, light and crispy. Nothing was soggy or heavy. I started with a prawn tempura and found myself doing a little happy dance. It was wonderful. What a crunch! Yes. That was good.
8/10 - Totally matched with my expectations and tasted incredible. But I feel I could create a similar batter with rice flour, and sparkling water and get similar results.
Medical report: It's now the end of the day and I have no cramps yet and no bloating. I have been dosing up on pro and prebiotics which must be doing something. What I do feel however, is heaviness in my lower abdomen.
---
Day 3: DIMSUM
This is the one I actually almost slip up on all the time. Whenever I go for Dim Sum as a coeliac, I have had to be stringently careful and check packets of the rice paper used for the Har Gau (Prawn Dumpling in Rice Paper) and make sure there's NO SOY SAUCE anywhere near it before I actually eat just that one thing.
But I almost slip up on Cha Sui Bao everytime. It just calls me. That fluffy white dough holding a precious filling of sweet, succulent, barbeque pork makes me salivate! And when someone else I'm with orders some, it takes every ounce of restraint not to ask for a nibble or just a bit of the filling.
For these reasons, Day 3 had to be Dim Sum Day! Josh and I splashed out. We went to one of the best Chinese restaurants in London's Baker Street and ordered a mega selection!
10/10 – I want to eat dim sum every day. For ever.
Medical report: It's now the end of the day and my lower abdomen still hurts. It feels heavy and tender which is thoroughly unpleasant. What is weird though is that it's Day 3 and I have not had any mad bloating……yet.
---
Day 4: CROISSANT
Every Sunday Josh and I go for a run or walk to our favourite café in Putney. We grab a coffee and I often bring in my own bread for them to toast while Josh has an epic pastry! Today, I had one. I had a Butter Croissant.
I savoured and devoured that heavenly pastry like it was my last meal on earth. I made noises I'm not proud of making in a public place and I swore. A lot. I gotta say, that croissant bought out the worst in me. But it made me so happy.
10/10. No question about it, this croissant gets a 10/10. It tasted exactly as I remember with the flaky pastry melting in my mouth and the rich, sweet, butteriness coming through. I will mourn croissants if I can never eat one again.
---
DAY 5: BRIOCHE
I quite enjoy lobster. Grilled or steamed, I love it. I have been known on occasion to discard the utensils it often comes with and just hack away with my bare hands (a quality that Josh cannot work out if he admires or detests me for!) But whenever I see "Lobster in a Brioche Bun" on a menu, I do tend to feel a bit sad that I can't usually eat it. Wouldn't the sweet brioche go perfectly with garlic-buttery lobster meat?
So day 5 was going to be Lobster Brioche Roll day. For this, I needed my best friend Sophie. Sophie and I have been dining out as "mate dates" since we graduated from university and we've been friends since the age of 7; so I wanted her to be a part of this gluten journey too. Sophie has also never eaten a lobster and this is a statement that could not remain true for much longer if we were to remain friends!
We met at Burger & Lobster in Soho and I went straight in and ordered my long-pined-for Brioche Roll. Sophie ordered a 1lb lobster and chips.
The brioche itself was sweet, and crispy on the outside. However, it tasted stodgy. It was a heavy dough. And the lobster wasn't salty, juicy or tasty enough to cut through the sweet bun. It was -I hate to say- quite underwhelming! I wish I had stuck with just a plain lobster like Sophie had. Who would have thought that I would have food envy for the gluten free option!
3/10 - Not that fussed anymore. Maybe I didn't have the BEST option I could get, but I'm now kind of ok with not having a lobster brioche roll again. Meh.
Medical report: I still don't have bloating symptoms today which is really odd. The heavy feeling is still there in my lower abdomen and I have noticed more acid reflux than usual, but no bloating and no sluggish feelings. Hmmmm…….
---
Day 6: FRESH FRENCH BREAD
What do you do when you pass a bakery in the morning and the bread smells fresh and wonderful? If you asked me that 1 week ago, I'd reply "Shove off and stop making me jealous! Do you not realise that it takes every ounce of self-restraint not to ask for a fresh roll just to sniff?"
But this morning, I walked to that bread stand and picked up a fresh, french stick, paid for it and left. Feeling very, very, beacoup de French (read: smug)! For today I was going to feast on bread, brie and chutney for my lunch.
I'm not certain that there are words to explain how overwhelming it was to sink my teeth into the chewy crust and light, crispy centre. It really was heavenly. I could eat the entire baguette and I wouldn't even need brie with it.
Oh gosh, as I'm writing this I may even go and make myself a quick snack of french bread smothered with butter and jam……..
…..and I'm back. I didn't eat any. I promise! *licks jam from lips*
10/10 - I miss French bread. There, I said it. It actually went beyond my expectations. I didn't think I was that fussed about missing fresh bread; it was actually only on my "to eat" list as an experiment. But now I have reminded myself what incredible bread with a light structure and thick crust is like, I'm not sure I want to ever go back to how things were a week ago.
Medical report: I know, I know…but what is this doing to my insides? Well, so far I've had no changes apart from that heavy feeling I mentioned before. I actually feel like I'm having LESS digestive pains than I used to have. Not too sure what that means, but hopefully my gastrologist can help decipher this next week after my endoscopies.
---
Day 7: PESHWARI NAAN
I've been looking forward to this all week. Peshwari naan from my favourite local Indian take-away. It's a dish I always used to enjoy: the buttery naan, with a crispy edge, a soft pillowy dough, and sweet coconut filling.
This one arrived and it was studded with cardamom seeds, cumin seeds and coriander. It looked beautiful. As I ate it, I thoroughly enjoyed it. It wasn't as sweet as I remember from my teens but I guess each restaurant does it differently. The texture was wonderfully chewy, fluffy and crispy in all the right ways, and there was something I had missed about picking up my curry and rice between a pinch of naan. It felt like a more decadent, authentic meal. It made me eat a lot slower too. Usually I eat my food with a spoon (it's more comforting that way but does make me eat super-fast!) but with the naan, I took my time – mostly to ensure that the naan to curry ratio remained until the last mouthful!
9/10 - Overall, the naan itself was great and I really had missed the experience of eating Indian food like that.

Medical report: It's now halfway through my gluten challenge. The symptoms aren't what I expected at all. I don't feel sluggish, panicky or bloated. I'm now totally baffled as to why I came off gluten in the first place!
But there is of course the notion that I may be a "silent sufferer" which is a Coeliac with no external symptoms but still the autoimmune response which wears down the villi over time.
On then other hand, I may have had such bad gut health from being at university (where I did balloon 3 dress sizes within the first year due to student loan + cheap pizza) that I was more susceptible to intolerances, stress, and a weaker immune system. Who knows? All I know is, I should find out in a week or so!
---
Day 8: Cronut
The rise of the Cronut (or Dosant or Duffin….whatever) is something that passed me right by. Of course I knew they existed, but I didn't know anything about them. I blocked it out like one of those bad dreams that you can't bear to revisit. Well, now I opened the doors and laid out the red carpet to the idea of the Cronut. My friend Rachel and I decided that if we were doing this, we'd do it right: we'd go to Dominique Ansel's London Patisserie. Dominique Ansel is the creator of the Cronut in NYC back in 2015 and brought it over to the UK in September 2016 as he set up his premises in Victoria, London.  
Off we went. I thought it would be MEGA decadent if I just had a cronut for lunch therefore I had a starter of pea soup, which was wonderful and came with a super thin long crouton topped with crème fraiche dollops and dill sprigs. It was incredibly fresh and felt cleansing before what was about to happen!
The cronut itself was this month's special: Peach and Raspberry. It was a glazed, ringed donut made from croissant dough. I expected something light and crispy (like the donut of my dreams a few days earlier). However, what I got was a stodgy, claggy dough with a raspberry filling inside which was way too sour! The peach icing on the top was unfortunately bland. There wasn't much flavour to the whole thing and I left feeling it was yet another case of style over substance!
My friend Rachel loved hers though and said that apparently the Pain au Chocolat and Cookie Shots (cups made from cookie dough with milk inside) were also supposed to be good. So we tried those too! Pain au Chocolat was standard and the Cookie Shot was way too sweet. Give me my own homecooked cookies and almond milk any day!
3/10 - Not missing out on anything
---
Day 9: Donut (and a bit of Malt Loaf)
My Dad and I used to play "The Donut Game" when I was younger, where we'd get a jammy donut from the local bakery after Horse Riding lessons every Saturday morning and eat it without licking our lips! Now, 20 years later, I wanted to do the same game.
While I waited for Dad to return from the bakery, I got distracted by a slice of Malt Loaf (I'm only human!) which I loaded up with butter and relished within 4 bites! It was chewy, dense, sticky and sweet like I remembered!
Donut time: Yes, I managed to eat it without licking my lips; yes, it was just as hard to do that as it sued to be; and yes, it was as epic as I remembered. The dough was crispy on the outside and chewy on the inside with a sweet jammy centre that splurged out the sides! What a divine creation.
8/10 - Malt Loaf was delicious and I wish I could eat that for breakfast every day. And the donut was a real treat and lived up to expectations!
---
Day 10: Challah French Toast
Coming from a Jewish family, there is a LOT of bread around! Every family meal starts with Challah; a sweet, doughy, plaited loaf made with eggs. It is passes round the table from my Grandfather who blesses it, and every time, it misses me out (*sad face*). So this Sabbath, I would be joining in with a loaf of my own made into eggy bread.
The Challah itself I actually found too stodgy. Maybe because I am not used to bread like that anymore but I couldn't eat more than a bite! But after dunking a slice in milk, then egg and then frying in butter and slathering in blueberries and maple syrup, it was one of the best things I've ever eaten! It was so fluffy! And, how comes it didn't disintegrate like gluten free bread does!? (I know the answer……that was a rhetorical question!)
Yup: 10/10 - Would eat again! But only 6/10 for plain challah
---
Day 11- Frosted Shreddies
Yup, one of the wheatiest cereals out there! I miss how I used to make them soggy and then suck the sweet milk through the lattice.
So for breakfast on Day 11, I had Frosted Shreddies with almond milk and it was delicious! I felt really full from just one bowl and it really did keep me going more than gluten free cereals usually do. Maybe that was down to the size bowl I had though……
9/10 - Wish I could eat this every day….Oh and Start cereal…..whatever happened to that?
---
Day 12- Pizza
My friend Tammy has been telling me about a place called Homeslice for ages and it always upsets me that the restaurant makes no attempt to offer anything gluten free. They offer pizza and only pizza.
The menu allows for 20" pizzas (that's not a typo!) either one full flavour or split with two toppings. We went for a 20" pizza to share with Margherita on one side -because I wanted something standard to use as a point of comparison- and Kalmata Olives, Anchovy and Caramelized Onions on the other side.
Holy Heavens! That's all the words I have. I honestly wasn't expecting much from this as there are so many great gluten free pizzas out there these days (I'm looking at you Pizza Express, White Rabbit and Venice Bakery!). However, what I just didn't expect was the doughy, salty, charred crust and such a super thin base! It would be impossible to get gluten free dough that fluffy on the crusts and so thin elsewhere; and unfortunately, that's what made this pizza so, SO incredible!
Embarrassingly, this pizza was so incredible that I got ANOTHER 20" one to take home. Please don't judge me!
10/10- This is where I'm going the second I am told I can eat gluten again (IF that is the case)!
Medical report: So far I am feeling a bit heavier than yesterday. No bloating yet but I am starting to feel a bit run down, panicky and lethargic. I have put on weight for sure and certainly feel "doughy".
---
Day 13- Sticky Toffee Pudding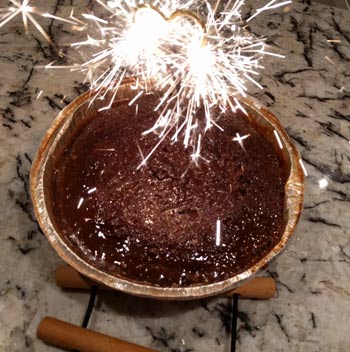 I realise now that this is actually my last day eating something exciting, because tomorrow I have to eat non fibrous foods and then fast before my colonoscopy and gastroscopy! So, 13 days it is!
Josh and I went over to our best friends' house for dinner and for pudding I bought a Sticky Toffee Pudding from a farmshop near my parent's house in Radlett. It used to be my favourite when I was younger when it was served hot and slathered in double cream and I wanted to share it with my besties for my final hurrah!
My friends made it so special and put a sparkler into the pud when it came out the oven. We dished it up, poured over the cream and all dug in whilst snuggled watching a movie. It was delectable! So warming, sweet and comforting. It was exactly as I remembered but if I'm honest…..I think I can make a gluten free one that good myself!
7/10 - An incredible way to end this challenge but one that I can recreate myself free-from gluten (top tip: use medjool dates!)
Medical report: Now, on the eve before my procedures, I don't feel too dreadful if I'm honest. Its worrying me, because I could be a silent sufferer which offers its own hindrances as there's no immediate external reaction to alert me to danger foods.
Have I have outgrown whatever it was that was causing me issues over 10 years ago? Or perhaps my system is just not reacting because it's been so long since I've had gluten (odd though because I've been bloated when I've had gluten before!). I will find out in due course. But I am so happy that I've managed to enjoy myself these past two weeks with little eternal symptoms.
---
So, what do I think over all?
Most gluten food is not as great as I remember.
Gap in quality between gluten free food and regular food is narrowing.
Pastries are one thing that will never be the same.
Textures are the things I've been missing most.
Bread will never be the same; but the closest is probably Ranas!
Lots of gluten dough is chewy and stodgy. I don't miss that.
I miss HOW I used to eat things like sucking milk through shreddies or taking off croissant layers to dunk in coffee.
I will update further after my colonscopy and gastroscopy! Wish me luck!
August 2017
See here for the results of Catherine's colonoscopy, gastroscopy and biopsy...
If you found this article interesting, you will find many more general articles and research reports on coeliac disease here, and lots of information on the management of coeliac disease here.
You can also find articles and research reports on gluten intolerance here and articles on a wide range of other digestive conditions here.
For hundreds of gluten free foods see our freefrom food section here, and for nearly 800 gluten-free recipes see here.
And if you would like to get our FREE fortnightly e-newsletter with new products, recipes, articles and all the latest news from the allergy and freefrom world, just sign up here.