Delicious Alchemy launches charitable foundation with a guide to gluten-free living
Delicious Alchemy is celebrating their 10th birthday by setting up the Delicious Alchemy Charitable Foundation with the aim of improving the lives of people on restricted diets, day by day.
Amongst other things they plan to donate gluten free food to UK food banks, such as the Trussell Trust and money to charities and scientific research programmes that are also working towards improving the lives of those on a free from diet.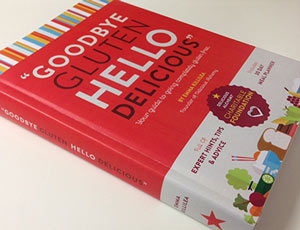 Their first project is a book – 'Goodbye Gluten, Hello Delicious!' – written by Emma Killilea, Delicious Alchemy's founder and herself a coeliac with a severe wheat allergy.
But, publishing books does not come cheap (£32,000 to be exact...) so Delicious Alchemy are Crowd Funding to pay for their first project – all the proceeds of which will go into the charity. You can hear Emma talk about the book and how they are hoping to fund it here on You Tube.
If you would like to support this excellent scheme, the first thing to do is to join their Thunderclap campaign which will allow them to make the biggest possible 'bang' when their campaign goes 'live' at midday on 18th April. But it would also be great if you could share and like their posts on Facebook, Twitter, Instagram & Linked-In.
If for any reason you can't or don't want to go down the Thunderclap route, just sign up for their newsletter and then they will be able to tell you how their fund raising is going and how you can contribute once it has gone live. And don't forget that every little helps. Even if you can only afford 50p it is another 50p towards their total!
For more information on Delicious Alchemy see here; for more on the charitable foundation, see here.
March 2016
If you found this article interesting, you will find many more general articles and research reports on coeliac disease here, and lots of information on the management of coeliac disease here.
You can also find articles and research reports on gluten intolerance here and articles on a wide range of other digestive conditions here.
For hundreds of gluten free foods see our freefrom food section here, and for nearly 800 gluten-free recipes see here.
And if you would like to get our FREE fortnightly e-newsletter with new products, recipes, articles and all the latest news from the allergy and freefrom world, just sign up here.