An end to pain and shame:
flatulence-arresting underwear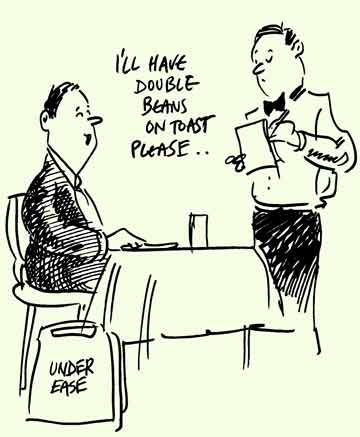 The subject of excess intestinal gas is often the subject of mirth but, for the gaseously-challenged, this subject is no laughing matter.
Millions of people around the world suffer the embarrassment of malodorous flatulence caused by poor eating habits or gastro-intestinal disorders such as irritable bowel syndrome and inflammatory bowel disease (ulcerative colitis and Crohn's disease). People who have a lactose intolerance or take diabetes medication can also be affected, as well as the elderly.

However, there are products available which can relieve the pain without the shame. Special cushions and medications have been around for some time but, recently, Under-Tec, a US company, has introduced a new airtight undergarment that helps keep flatulence under wraps.

The 'Under-Ease' garment is made from a soft polyurethane-coated nylon fabric which is air-tight and incorporates a replaceable charcoal filter. An exit hole is cut in the air-tight material to allow gas to be expelled, but the hole is covered with a uniquely designed pocket, made from an ordinary porous fabric, which holds a replaceable, multilayered filter pad.

The filter pad incorporates, among other things, two layers of Australian sheep's wool and a layer of activated carbon. This traps the 1-2% of human gas that creates the foul smell (mostly hydrogen sulfide) but allows the remaining odourless gas (mostly methane) to pass through. It also allows air to circulate, preventing a build-up of excess body heat.

Under-Ease protective garments are washable and should last from six months to one year in normal use. Available in a range of sizes, they can be worn inconspicuously under or over regular underwear, and are undetectable beneath trousers or dresses. They are therefore suitable for use in most situations, except water-related activities such as bathing or swimming.
Click here for more research on the management IBS
04/07
If you found this article interesting, you will find many more general articles and research reports on coeliac disease here, and lots of information on the management of coeliac disease here.
You can also find articles and research reports on gluten intolerance here and articles on a wide range of other digestive conditions here.
For hundreds of gluten free foods see our freefrom food section here, and for nearly 800 gluten-free recipes see here.
And if you would like to get our FREE fortnightly e-newsletter with new products, recipes, articles and all the latest news from the allergy and freefrom world, just sign up here.