Gluten-free cookery at River Cottage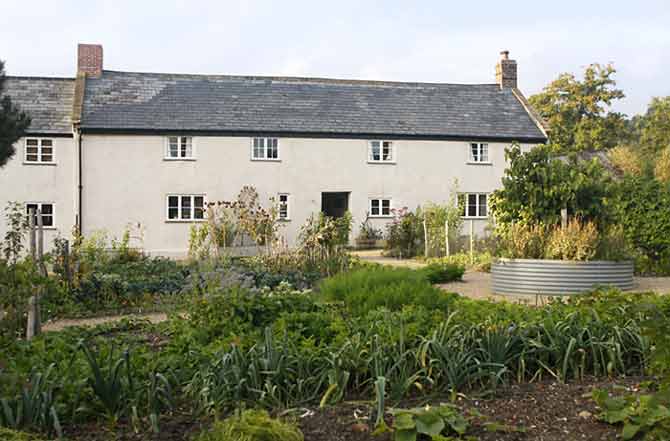 Coeliac Sue Cane spends the day with nutritionist, Naomi Devlin, cooking gluten-free pissaladiere, sourdough bread and – eating lunch!
As I pulled out into the darkness of the Devon night I was glad my journey home was a short one. On the front seat of the car lay a Pissaladiere still hot from the oven, fragrant with sage, caramelised onions and goat's cheese. The smell was driving me crazy. Eight minutes and a near-miss later, I was standing at my kitchen table, coat still on, enjoying mouthfuls of pastry whilst surveying with some amazement the array of gluten-free cakes and bread I seemed to have made during the day.
The Gluten Free Cookery course at River Cottage HQ features hours of practical cookery, plenty of guidance on health and nutrition, a delicious 3 course lunch cooked by River Cottage chefs, and armfuls of impressive food to take home. And if my burned tongue is testament to the deliciousness of the food rather than my impatience, I can vouch for the fact that this is gluten-free cookery as it should be.
That morning as we slowly lurched our way down the steep track in the tractor and trailer to meet our hosts I wondered if the ride would prove to be the most exciting part of the day. It wasn't – it was undoubtedly the fantastic lunch – but the day long course, lead by nutritionist and homeopath Naomi Devlin, was fun and informative, and left me better informed and keen to eat healthier food.
Of course the 'River Cottage Experience' plays a large part in the success of the offerings at Park Farm and as we climbed down from our agricultural transport and gingerly picked our way through the hams and animal skins swaying in the wind under the rafters of the outdoor drying area it was clear that it would be an eventful day. Coffee, warm buckwheat drop-scones and quince preserve greeted 18 of us in the yurt and then it was over to the cookery school to start proceedings.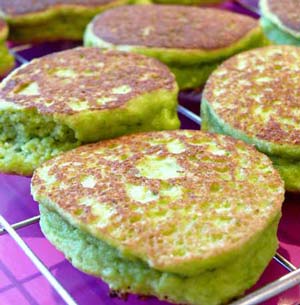 It was Devlin's diagnosis with coeliac disease ten years ago that lead her to explore the world of gluten-free grains and the effect they have on her diet. Her findings have now become a way of life. Her philosophy is simple – to mix starch sources to maximise nutrients and flavour, to soak or ferment grains to aid absorption and digestion and to use healthy fats and natural sweeteners. Her whole-food recipes without gluten are a million miles away from the over-sweetened, high-glycaemic foods on which coeliacs often rely.
Naomi avoids using refined flours in her cooking, which she says 'are like rocket fuel' for our blood sugar levels. She combines starches - for instance using buckwheat flour and cooked quinoa grains together in cakes – giving taste and texture as well as adding essential nutrients to the diet and not leading to the highs and lows associated with the 'instant grains' of much commercially made gluten-free food. The delicious looking pikelets on the right are made using green peas!
There are 10 workstations in the sun-filled River Cottage cookery school and at these, aided by a largely invisible kitchen staff who kept us supplied with mountains of ingredients and utensils throughout the day, we made an impressive quantity of delicious cakes, bread and pastry. There is none of the grind associated with normal cookery at home. There is no weighing, opening packets, reading recipes or washing up. At River Cottage the ingredients are all ready and waiting for you, in nice stainless-steel bowls. Dirty utensils reappear clean, minutes later. And there are no culinary disasters, just triumphs.
The morning passed happily in a warm haze of cooking and chatter and then having carefully placed our quivering 'Buckwheat Cheaty Sourdough' bread in the oven, we waltzed off to a slap-up 3 course River Cottage lunch, leaving Naomi to police the ovens and co-ordinate the extraction of 9 loaves of bread with the silencing of multiple pinging oven-timers.
Lunch was a high point. It seemed ordinary enough, as delicious lunches go: squash soup with walnut and rocket pesto; salad of spicy leaves, Blue Vinney, pancetta, and nasturtium flowers; buttery buckwheat-shortbread with caramelised oranges and crème fraiche.
It was excellent food, beautifully presented. But the exquisite pleasure, I realised after I had tucked in to my soup without a moment's hesitation, was that there had been no whispered conversation about gluten, no anxious request to 'Have a quick word with the chef'; no 'Are you absolutely certain this is gluten-free?' Do not underestimate this pleasure, reader. It made my week. Or maybe even my year. It was the crowning glory of this course. That and my pastry.

Naomi's gluten-free banana muffins
Gluten-free cookery courses are held at the River cottage throughout the year.
For more information check in at the River Cottage website.
Back to freefrom cookery courses home