The Seaweed Health Foundation – Dr Craig Rose enthuses about seaweed's 'big' future.
Following from our article highlighting seaweeds' highly nutritious, tasty and sustainable qualities, this article demonstrates how interest and uptake of this incredible and underutilised natural resource is continuing to grow at an amaing rate.

As with the Free From market, that reportedly achieve double-digit global value sales growth of 11% even in recession hit 2009, this is an exciting time for seaweed for food and health.
Of the wide number of positive stories on seaweed for food and health, some example headlines include:
"Big Idea for the Future"
In 2011 Research Councils UK highlight seaweed instead of salt as a big idea of the future; selecting this from hundreds of commercially focussed research projects on going in the UK
"Let's start taking seaweed seriously"
In 2011, Michelin Star chef Heston Blumenthal, in The Times, wrote an article on why we should now be taking seaweed seriously as a food ingredient for nutrition, taste and sustainability
"7 out of 10 of the world's top restaurants are serving seaweed"
In 2011, this news story in The Independent highlights how seaweed as a food and ingredient is a growing trend
"Breakfast of the future"
In 2011, seaweed was highlighted as one of the key trends of foods that may be incorporated into breakfasts and other parts of our diets as travel, taste and health becoming increasingly prevalent. Seaweeds are rare in their ability to meet what are often termed 'mega-trends', which means those undeniable trends that will continue on above all others. Specifically:
Energy: the need to find sustainable and scalable sources of fuel for energy generation to meet the growing global energy demands.
Seaweed is receiving billions of dollars for research and commercialisation as a sustainable biofuel. It does not compete for land with food-crops or natural habitat, and requires no freshwater.
Health-care: the need to find treatments and cures for populations that are experiencing greater life expectancies, yet increased issues such as cancers and obesity
Seaweed, as a truly whole food, and some specific extracts are part of existing medical applications and the subject of ground-breaking research for anti-cancer treatments, anti-viral, anti-biotic, nutrition, salt replacement, preservative qualities, and many others.
Food: the need for sustainable and high-volume food resources that provide nutrition, flavour and multiple applications.
For food specifically, seaweed is an extraordinary food source that has been eaten in many forms for millennia in all parts of the world. Increasingly seaweed is experiencing resurgence in the West for flavour, nutrition, food provenance and sustainability. Seaweed, from reputable sources, is also 100% allergen free and contains no gluten; thus ideal as a food and ingredient for the burgeoning Free From market.

To demonstrate the growth in interest and consumer trends, media articles on seaweed have increased by 100% from 1998 to 2011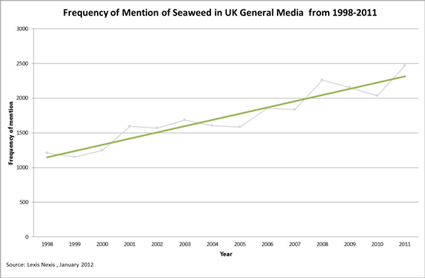 This trend is also reflected in Google searches, that have seen a 60% increase since 2004:
Furthermore, the scientific community continues to increase the activity on research on seaweeds, and subsequent publications, with a 175% increase from 1998-2011: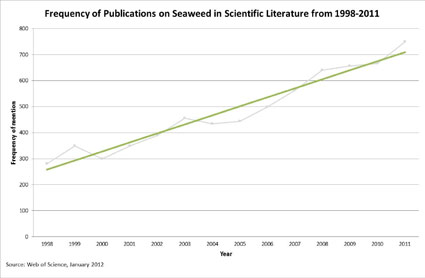 For more information on seaweed for food and health, and how you and your organisation can benefit from using seaweed in Free From or other applications, please contact the Seaweed Health Foundation: www.seaweedhealthfoundation.org.uk
For all other details,
please contact
the Seaweed Health Foundation Executive Director, Dr Craig Rose.
First published February 2012