Michelle's Freefrom Apple Brown Betty and Crumble
Egg, gluten, lactose, milk, nightshade, nut, peanut, sesame, soya & wheat free
October is the perfect time of year for home-grown fruit, so I have been indulging in lots of fruit dessert recipes. I made both the Brown Betty and the Hale-and-Hearty-topped crumble with some wonderful old English cooking apples that I bought at West Dean Gardens in Sussex – I heartily recommend a visit to anyone who is interested in kitchen gardens.
The crumble uses the Hale and Hearty crumble mix – just chop up your apples and sweeten lightly then spread the mix over them. It was very tasty and generally delicious and is part of their range, all of which is wheat and gluten free and most of which is also dairy and egg free.
Ingredients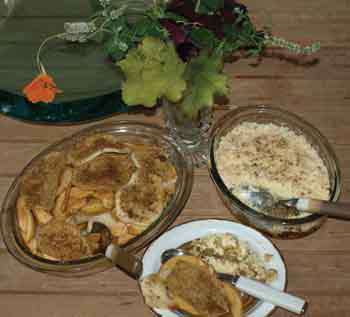 6–8 very thin slices of any gluten and wheat-free bread
approx 2 tbsp butter or dairy-free spread
2–4 cooking apples, depending on size, cored and sliced
(I normally leave the skins on but peel them if you prefer)
approx 2 tbsp pale muscovado (raw) sugar or any other sweetener

Method

Heat the oven to 180C/350F/Gas mark 4.
Spread a very thin layer of butter/spread over one side of the bread and cover the bottom of a pie dish (pan), 'buttered' side down.
Cover this with a layer of apple slices and sprinkle lightly with sugar or the sweetener of your choice.
Cover the apple with another layer of bread, then another layer of apple and another light sprinkling of sugar/sweetener.
Top with a final layer of bread slices, 'buttered' side up and, again, sprinkle lightly with sugar or sweetener.
Cover the dish tightly and cook for 45 minutes or until the apples are cooked.
Remove the covering and return to the oven for a final 15–20 minutes to crisp up the top layer of bread.
Serve alone or with whatever cream, yogurt or icecream that you can eat.

Serves 6 – per portion
141cals – 2.5g protein
5g total fat – 3g sat / 1g mono / 0.5g poly
24g carbohydrate of which 12g sugar
2g fibre – 166mg sodium / 0.4g salt
62mg calcium
We have over 800 delicious freefrom recipes on this site all of which are gluten free, most of which are dairy and lactose free and many of which are free of most other allergens. Please go to the following sections to try them out: