Michelle's FreeFrom Fidget pie
Gluten, nightshade, nut and wheat free; can be corn, dairy, egg, lactose, and soya free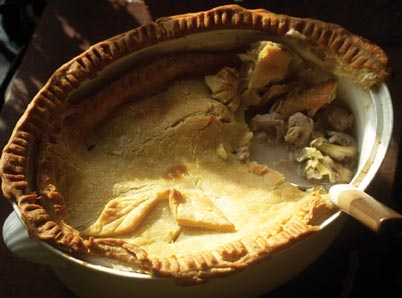 The combination of apples, onions and meat
is a very familiar one in English cookery - a Devon Fidget Pie for example uses ham instead of lamb or mutton but is otherwise very similar. The pie is quite sweet because of the apples and the cider but the sweetness complements the meat. You are unlikely to find a fillet of mutton around these days but in October you should be able to find some reasonably mature lamb.
I have allowed enough pastry to just top the pie. If you want to make a 'proper' pie (pastry top and bottom) you need to make 3 times as much.
1 tbsp olive or sunflower oil
1 large onion, peeled and sliced thickly
450g /1lb mature lamb, trimmed of fat and cubed
1 medium-large cooking apple (I used Bramley) peeled, cored & sliced
150ml / 2/3 cup dry cider
1 heaped tsp dark muscovado sugar
2 tspn dried thyme or 3 tsp fresh
1 large sprig fresh rosemary or 1 tsp dried
sea salt and freshly ground black pepper

200g/7oz (600g/1 1/4lb if you are putting pastry top and bottom) gluten and wheat- free flour (we used Doves Farm)
or 120g (4ozs) gram flour and 80g/3oz rice flour (360g/12ozs and 240g/9ozs)
100g / 4oz (300g/12oz) butter, goat's butter or dairy-free spread
4 tbps chilled water
1 egg (optional)
Heat the oil in a large pan and add the oil and onions and cook very gently for 3–4 minutes. Add the lamb, increase the heat and cook briskly for a further 3­–4 minutes.
Reduce the heat slightly and add the apple, cider, sugar, herbs and seasoning. Reduce the heat and again and simmer gently for 15–20 minutes.
Meanwhile, heat the oven to 180C/350F/Gas Mark 4 and make the pastry.
Whizz the flour with the butter or spread in food processor till the consistency of breadcrumbs. Turn into a large bowl, make a well in the middle and add the water. With cool hands pull the flour into the water and form into a ball.
Flour a large piece of clingfilm then put the pastry ball in the middle. Flour lightly then lay another piece of clingfilm over the top and roll the pastry out between the cling film sheets. This will largely prevent it falling apart when you roll it out. To cover the pie dish or pie, take off the top layer of clingfilm and then roll the pastry over the rolling pin to transfer to the pie dish, finally removing the lower piece of clingfilm.
If you are lining the pie use 2/3 of the pastry to line the pie dish then spoon in the filling. Otherwise, fill the pie dish with the lamb mixture and then top with the pasty and decorate.
If you are using egg, beat one egg in a bowl and use it to brush the top of the pie.
Bake for 40 minutes or until the pastry is cooked and lightly browned.
Serve with new or baked potatoes and green vegetables.

Serves 6 – per portion
409 Calories
18g Protein
23g Fat (9g Sat fat, 5g mono, 1g poly)
33g Carbohydrate of which 31g Sugar
0.8g Fibre, 218mg Sodium, 0.5g salt
17mg Calcium

Good Source: Vitamin B12
Back to more freefrom meat recipes